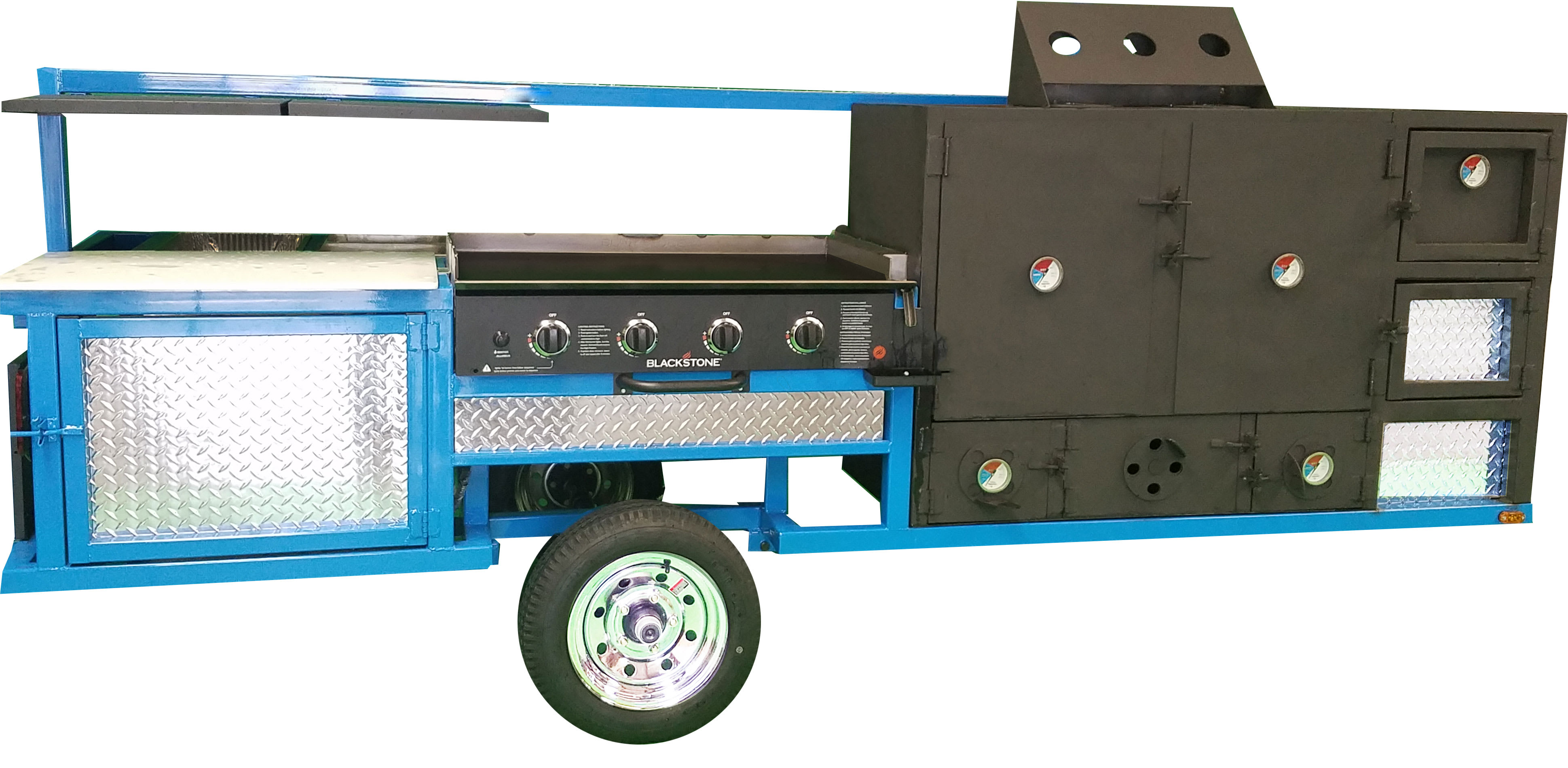 Small businesses and large enterprises across America use their custom-branded OMG for special events, tradeshows, in office pavillions, for vendor and customer appreciation, and as a regular culture-building activity. What better way to connect with employees and customers than with food?
One Parking Spot
An OMG can fit anywhere a car can fit. Use it in a parking lot, field, paved area, or roll it into the warehouse for extra impact. An OMG is easily hand-maneuvered into place.
HEADCOUNT DOESN'T COUNT
Buffet-style from the stream trays or prepared and served, a single OMG trailer with one cook or a small team can serve over a thousand people in a few hours.
BOND WITH EMPLOYEES
Upper management can easily take turns being chef for an hour. Greet your employees face-to-face in a fun environment to show them you care.
SAFETY first
We've improved the safety of each element of the OMG.  The hitch is removable to prevent theft and  tripping, and all materials are selected for safe food handling practices.
LOWER FOOD COSTS
Catered food adds up!  Starting at only $5,215, your OMG will quickly recoup this expense and feed happy employees and visiting customers.
NO EXPERIENCE REQUIRED
Anyone with the most basic cooking skills can easily and efficiently prepare and serve food. If you can flip a burger, you can run an OMG.
COMMUNITY EVENTS
Modern customers expect companies to be involved and highly visible in giving back to the community. Take your branded OMG to local events for real impact.
TRADESHOWS & FAIRS
Ditch raffle tickets and chintzy swag bags and give people what they really want at outdoor events: food. Even sample bites pack more punch than a new ink pen.
VENDOR APPRECIATION
Save on catering and connect directly with your vendors by hosting lively lunches  with fresh cooked food in a more personable way.
TEAM BUILDING EVENTS
Use your OMG to cater your internal events, or even as a team building exercise in itself. Multiple people can work together behind the line and feed the entire company.
VISIT CUSTOMERS
Go on tour and connect with your customers face-to-face over delicious burgers, veggie kabobs, grilled sandwiches, and smoked meats.
FAMILY CULTURE BUILDING
Hosting weekly, monthly, or quarterly culture-building events is an amazing way to build deeper connections with employees and their families.