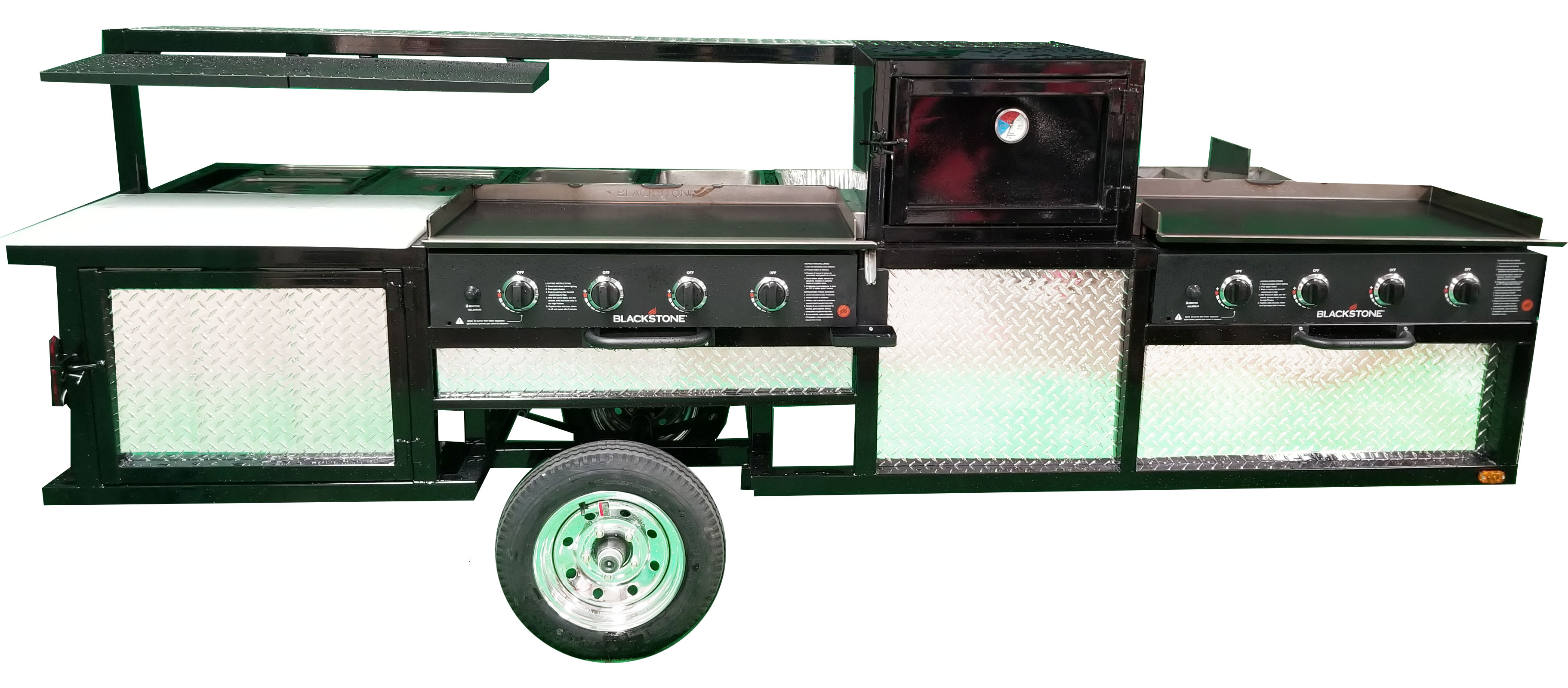 Our OMG outdoor mobile kitchens are used by hundreds of nonprofits across the country—including local municipalities and police departments,  churches and ministries, athletic groups, disaster relief organizations, and even the U.S. military—as a unique, inexpensive, and highly effective way to feed the hungry and connect with the community.
GOES ANYWHERE
From parking lots to community parks to combat zones, at either 8-foot or 11-foot, our models can be towed by virtually any vehicle with a towbar and hand-menuvered into the tightest of spots.
FEED THOUSANDS PER DAY
The unique pass-through cooking area to the buffet-style serving line enables food to be served quickly, efficiently, and in large quantites. The U.S. Airforce used an OMG to feed over 1,500 people in a few hours.
BUDGET FRIENDLY
We understand budgets are tight for municipalities and nonprofits. Starting at only $5,215 and a lease-to-own program, this is the most affordable mobile kitchen on the market.
SERVE FACE-TO-FACE
Patrons can look the cook in the eye as they collect their food. This creates a sense of trust and safety, forging a connection that is impossible to create looking down from  a food truck window.
ANYONE CAN COOK
Anyone with the most basic cooking skills can easily and efficently prepare and serve food on an OMG trailer. And the easy, open food prep line makes it simple to train new workers without sacrificing speed or safety.
SAFETY FIRST
We've painstakingly improved the safety of each element of an OMG. The hitch is removable to prevent theft and eliminate the risk of tripping, and all materials are selected for safe food handling.
helping you to help others
DISASTER RELIEF
Whenever a disaster strikes in the continental U.S., there's almost always more than one OMG trailer onsite providing relief. With their extreme maneuverability, low-cost, ease of use, and capacity to feed thousands per day, an OMG is uniquely suited to disaster relief.
MUNICIPALITIES
Police, fire, parks & rec departments, schools, and cities across the U.S. use their OMG outdoor mobile kitchens to inexpensively and efficently reach out to their communities with face-to-face encounters that create deep connections over food.
NGOs & 501c3
Nonprofit organizations use OMGs to grab attention at events, connect with the community, feed workers, and help those in need through the power of communal cooking.
CHURCHES & MINISTRIES
As a Christian company, nothing warms our hearts more than to see churches and ministries feeding the hungry, raising money, and connecting with their community.
HUNGER RELIEF
Hundreds of people in need are fed on OMG trailers across the country every single day. As an inexpensive and mobile solution, hunger relief orgs use these food trailers to quickly and efficiently feed long lines of people in a highly visible and closely-connected way.
MILITARY
OMGs are used to feed soldiers and their families at events and on base, as well as deployed into combat zones. We're proud to be a military family, and we offer a 10% discount on all models to those currently serving and to veterans.