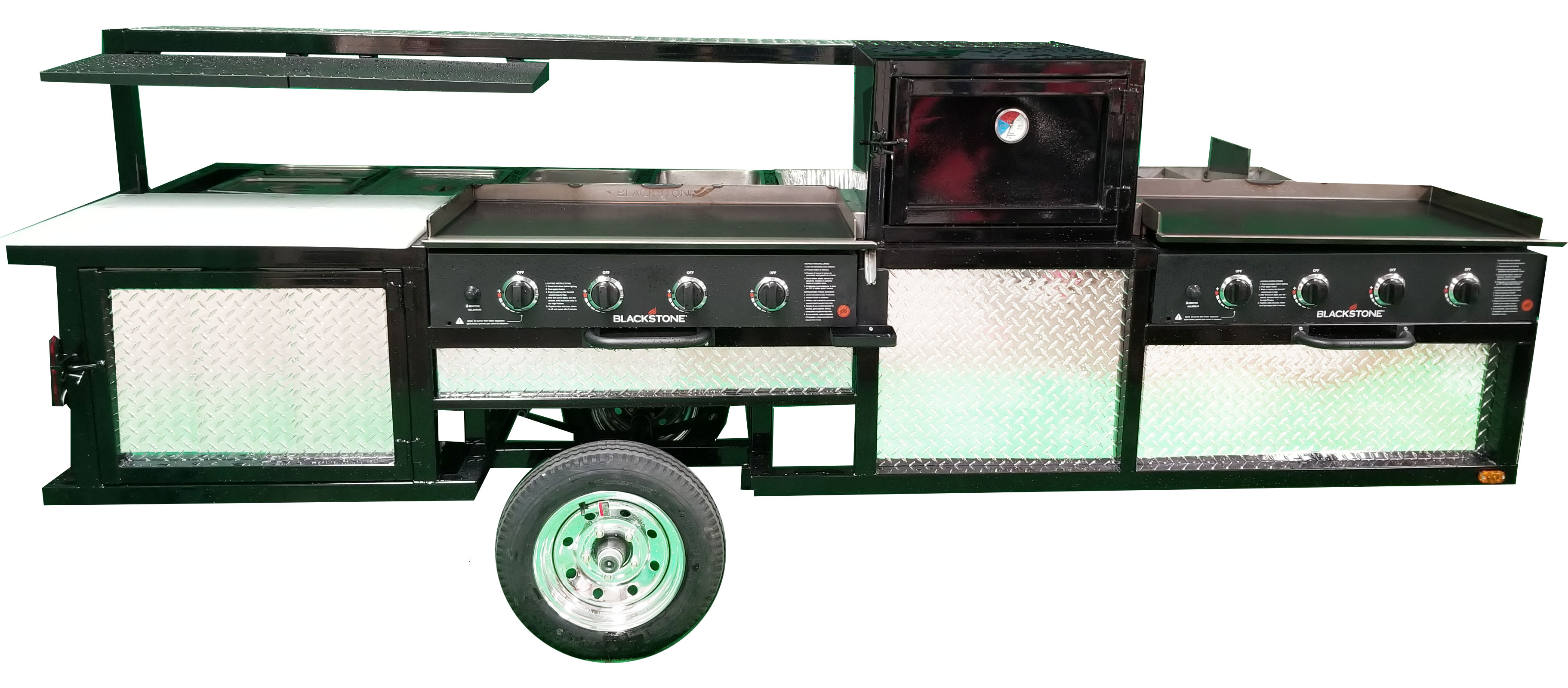 This model represents the great outdoors, and was especially created to meet the demands of our Parks & Recreation customers.
LIGHT & NIMBLE
At 11 feet long and only 720 pounds, a Parks & Rec can be pulled by any vehicle with a tow bar. Easily hand-maneuver it into a single parking space or through a disaster recovery situation. The hitch can be removed for both security and safety.
EASY TO OPERATE
If you can flip a burger and load a woodbox, you can run a Parks & Rec. A single cook can feed hundreds of people in a day, making it easy to take shifts. Whether used in disaster recovery situations, to feed the homeless, or to make a profit, an OMG connects you to your patrons face-to-face.
OUTSTANDING VALUE
At only $5,900, you won't find a similar price on a full-featured mobile kitchen with a griddle, smoker, steam table, and four-compartment sink. And with our lease-to-own program, we're providing the opportunity for anyone to open a business, feed the hungry, or connect with the community.
BUILT TO LAST
Each mobile food trailer is hand-built from the ground up in Azle, Texas. We use only high-grade steel from trusted suppliers and our welders are expert craftsmen.
PREP IT
Slice it, dice it, and chop it on the attached poly-resin cutting boards. Easy to clean and perfect for prep work.
WASH IT
The four-compartment sink enables you to wash both your utensils and your hands. A tall divider separates the two.
COOK IT
Grill, boil, and fry on both of the 36" Blackstone griddles with removable drip pans. Each has four independently-controlled 15,000 BTU burners.
STACK IT
Stack your plates, bowls, napkins, and utensils or any other items of your choice on a pair of removable metal shelves. Keep your condiments in the attached holder.
SMOKE IT, KEEP IT WARM, OR COOK MORE
Select one additional cooking space: a 16-gauge steel vertical smoker, a warming box that will hold food up to 400 degrees, or a flat cooking top with two 30,000 BTU burners that can hold large pots.
STEAM IT
Three 30,000 BTU burners provide heat to the steam table. The five steam tray slots can hold the various sizes of your hotel-size restaurant pans.
Questions? Call 817-382-2728
4′ x 11' and only 962 pounds
Hand-built from the ground up
2" square steel tubing frame
2,000-pound axle, 600-pound springs
13" 5x4.5 chrome wheels

32" x 76" open underneath storage

Complete hookup for the LED tail lights and brake lights
2" ball coupler and removable tongue to prevent tripping and trailer theft
32" x 14" removable tailgate that converts into a rear serving tray

Powder-coated in your choice of color to match your brand

Hookup and holders for three 20-pound propane bottles
Your choice of sides in aluminum diamond plate or 16-gauge steel panels with a customizable sign area
Two 2" square metal openings can hold a banner, umbrellas, flags, or the optional marquee sign
RAM trailer jack that supports up to 3,000-pounds
48" x 18" x 19" lockable storage
MARQUEE SIGN
Show off your brand on the attachable marquee sign with your customized name plasma-cut into one side. Write your menu on the flip-side chalkboard.
Just ordered one, what a great experience it was! Professional and personal care…highly recommend them.
Mark L.
An OMG is a must have for a chef. Indoors, outdoors, patio, on the street, you name it, this trailer is amazing!
Venus, Jackson, MS
FOR ENTREPRENEURS:
Lightweight and affordable, an OMG can launch your food service business, whether that's onsite catering, setting up in outdoor food courts, or hitting the road to do fairs and show. And with our lease-to-own program, limited finances won't stop your dreams from coming true.
FOR CORPORATIONS:
Food is one of the greatest ways to connect with anyone, including your employees and customers. Companies across the U.S. are using our outdoor mobile kitchens to forge deeper connections with all of their stakeholders.