AFFORDABLE CONCESSION TRAILERS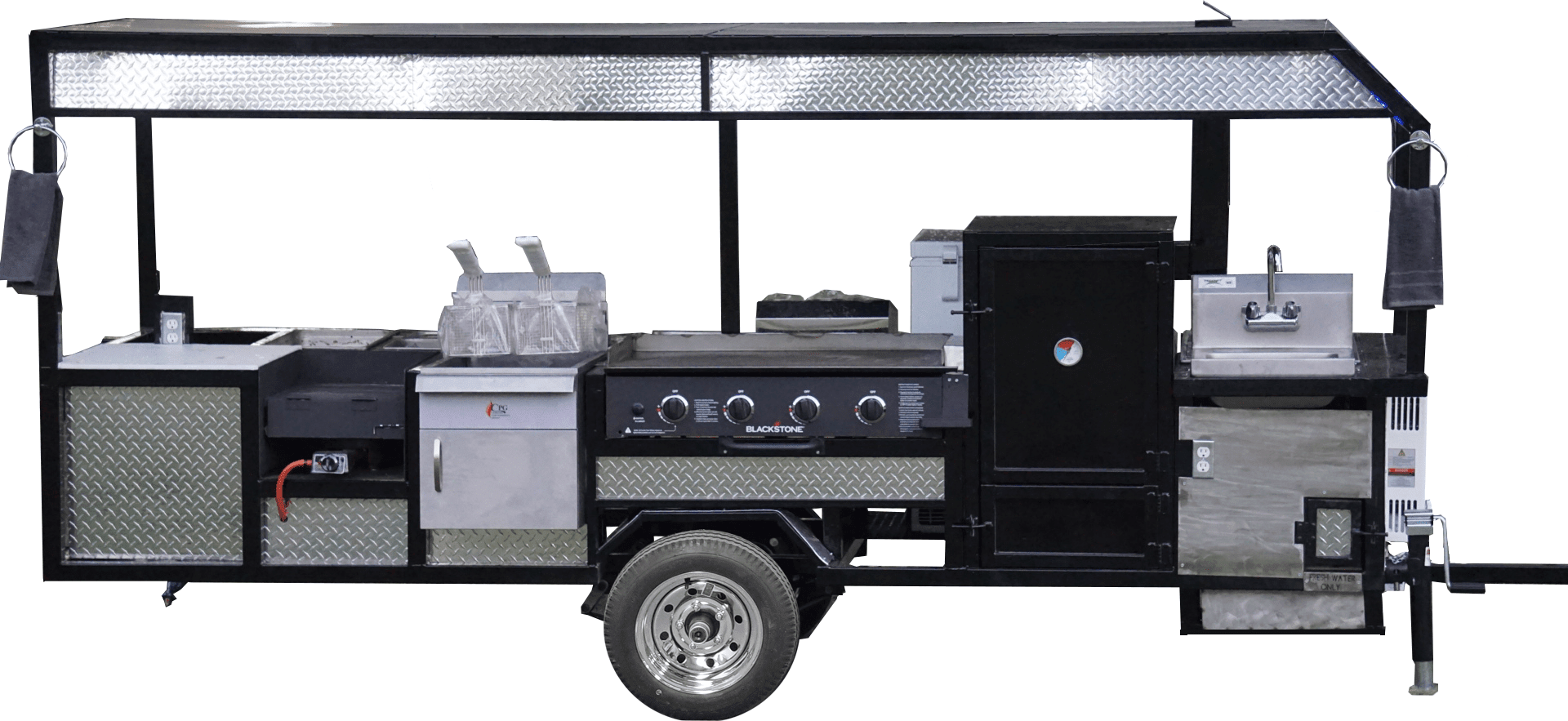 ELI EDITION – $9,925
Our ultimate OMG, designed specifically for full-time use for profit or charity. It features everything you need: dual frying baskets, a lava grill, a heavy-duty cooktop, steam tables, a freezer, a 3-compartment sink with a separate hand-washing sink, and much more. This is truly the world's premier maximum-impact, affordable concession trailer.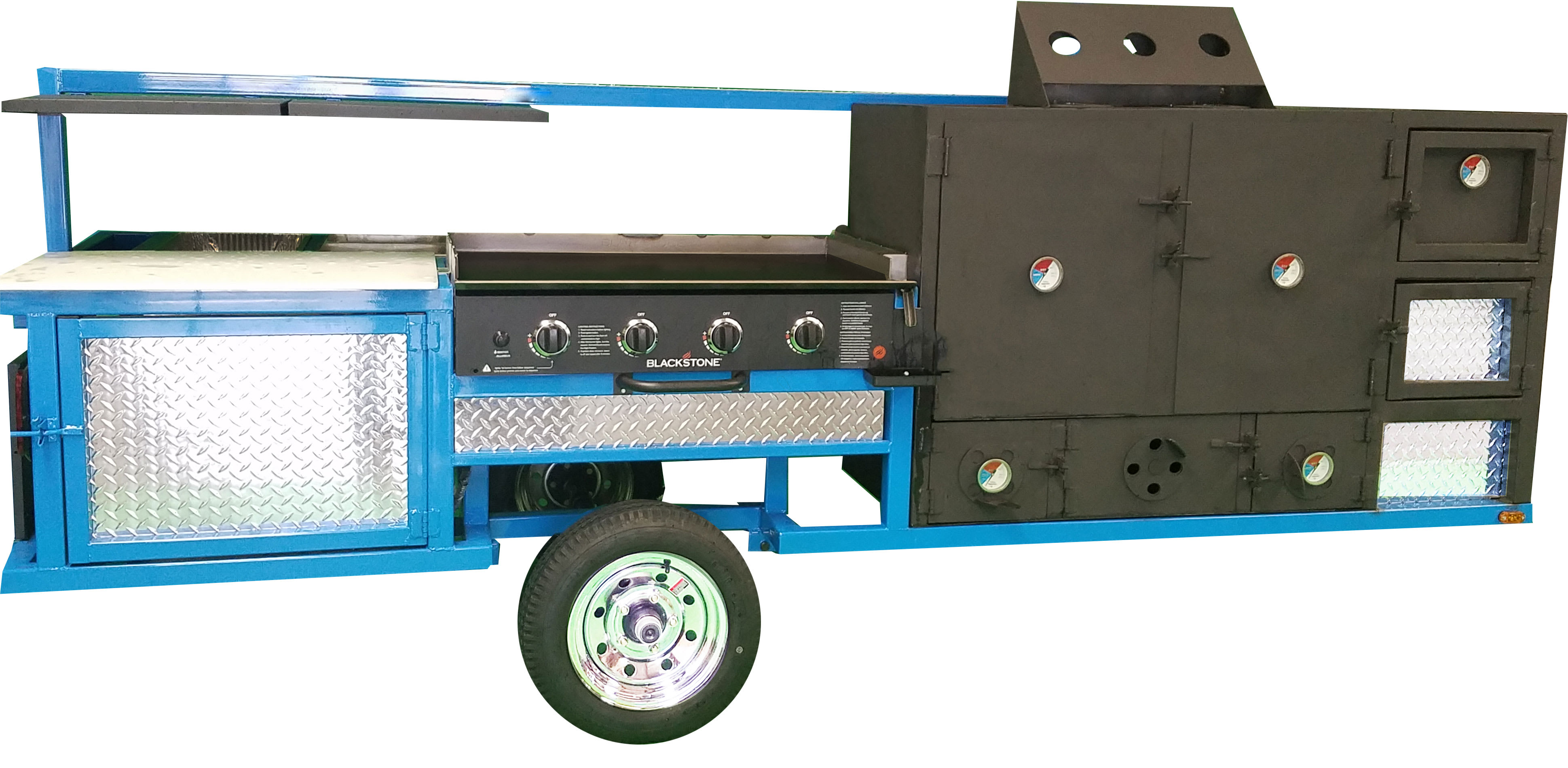 STEAMPUNK – $6,900
The Steampunk is our ultra-classy, high-performance BBQ trailer featuring our patented, blue-ribbon winning dual chamber vertical smoker. You'll have everything you need to take home the top prize: a Santa Maria-style grill, five-compartment steamtable, Blackstone griddle, a four-compartment sink, and two cutting boards.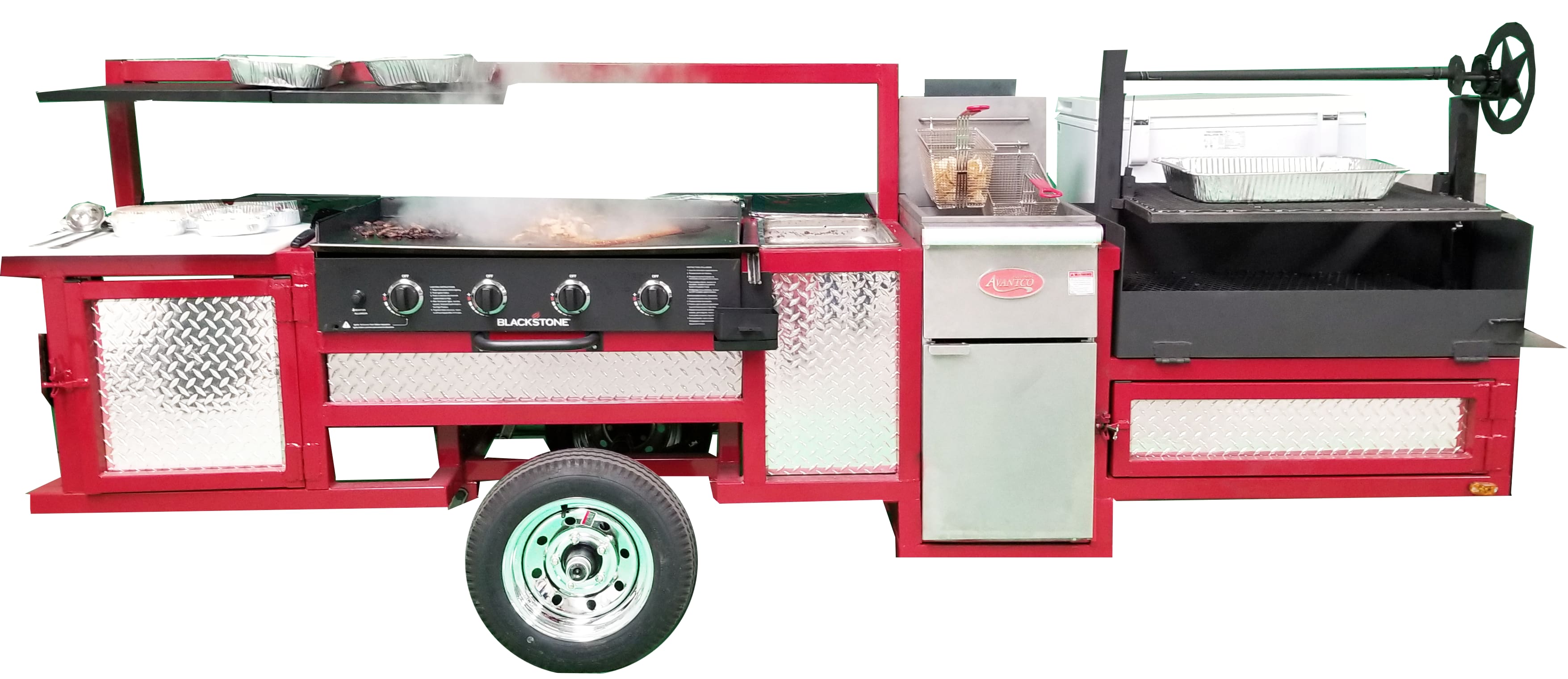 THE SJ – $6,500
This workhorse OMG food trailer includes everything you need to feed with speed. It has a deep fryer, Santa Maria-style grill, five-compartment steam table, a Blackstone griddle, and two poly-resin cutting boards.

TEXAN – $6,200
With cooking capabilities as diverse as Texas weather, the Texan is a fully-featured mobile kitchen. Includes a Blackstone griddle, Santa Maria-style grill, a smoker, five-compartment steam table, a four-compartment sink, a freezer, and two poly-resin cutting boards.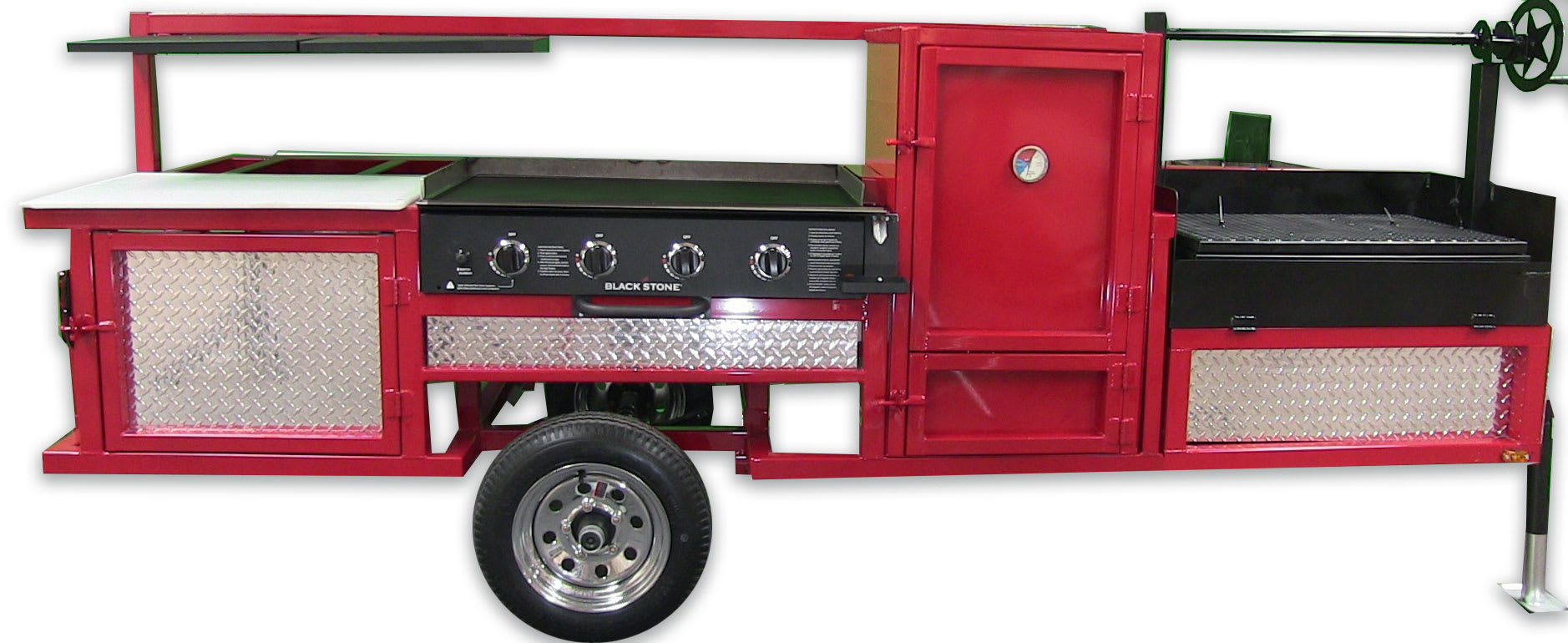 CHEF – $5,900
Our bestselling OMG, the Chef is a cook's dream kitchen on wheels. This unique concession trailer includes a Blackstone griddle, Santa Maria-style grill, a smoker, five-compartment steam table, a four-compartment sink, and two poly-resin cutting boards.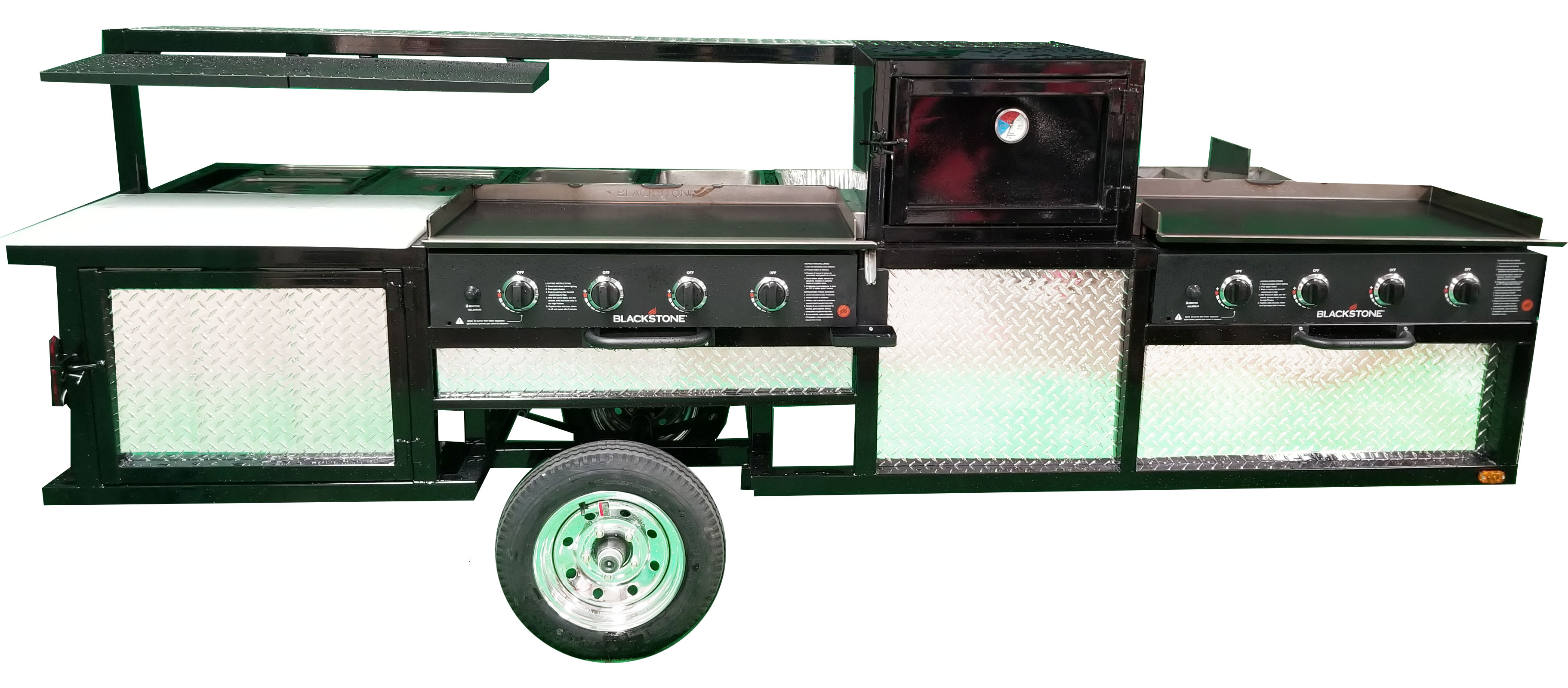 PARKS & REC – $5,900
Specially designed with speed and scale in mind, the Parks & Rec features two Blackstone griddles plus a bonus cooking area. Also includes a steam table, four-compartment sink, and two poly-resin cutting boards. Cook for any capacity with this concession trailer.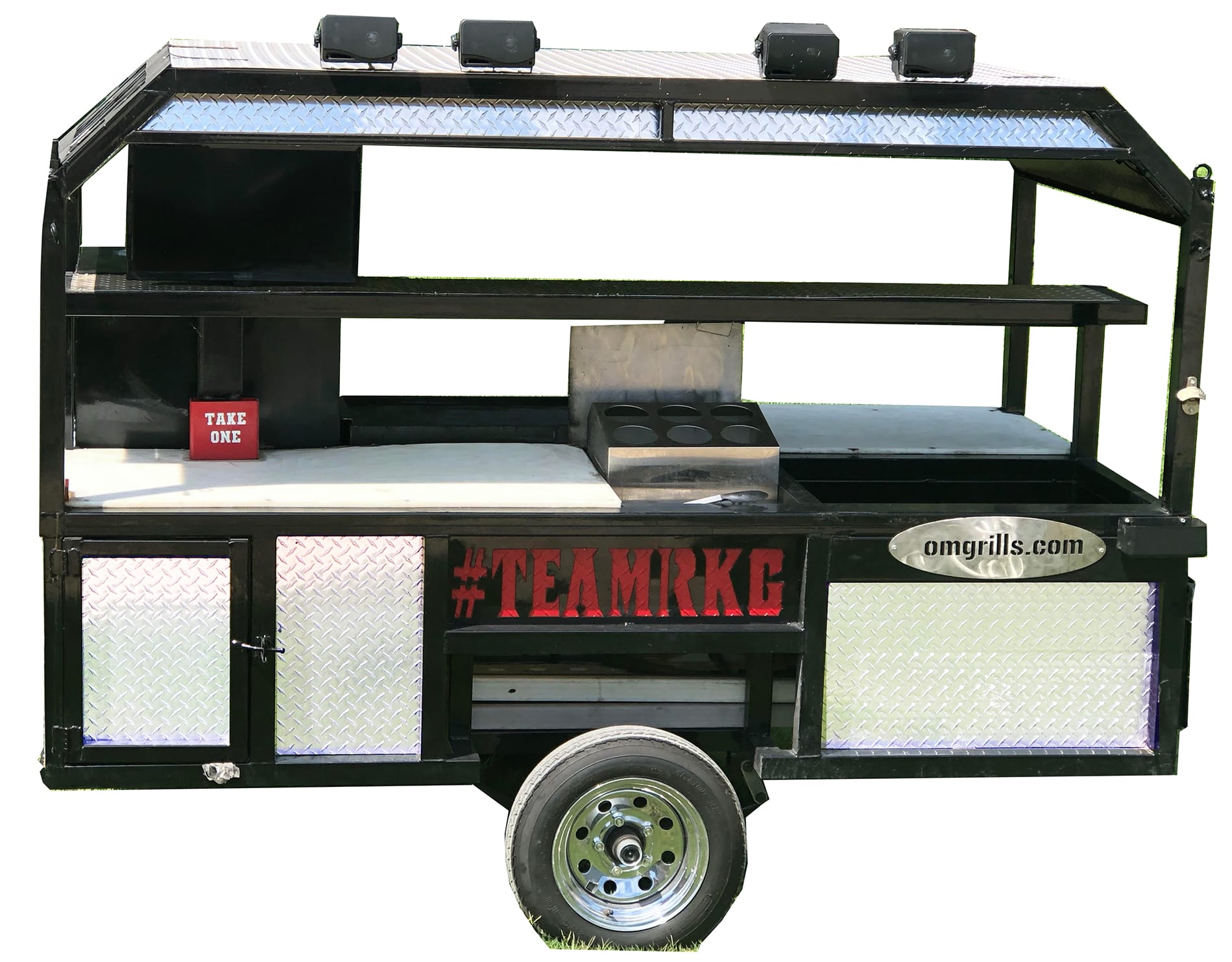 PROMOTIONAL – $6,500
Get one-on-one time with your employees, customers, community, and anyone else you're trying to reach! This unique OMG is decked out with a LED TV, waterproof PA system with mounted speakers, and all you need to cook and serve including our Blackstone griddle, warming box, prep station, serving counter, and icebox.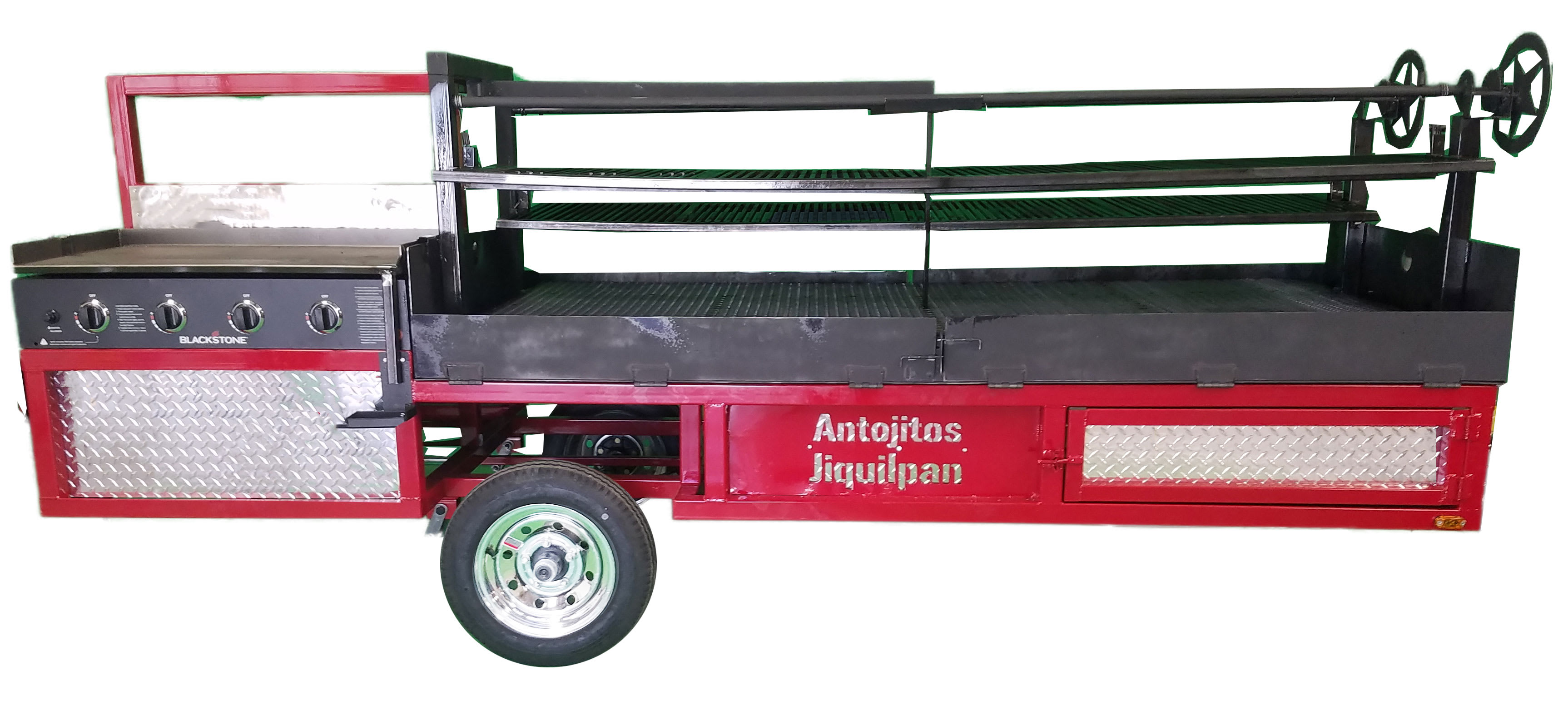 THE 805 – $4,500
Named after the area code of Santa Maria, California, the 805 ultra-unique BBQ trailer allows you to cook in style and scale with its giant Santa Maria-style grill, Blackstone griddle, and poly-resin cutting board.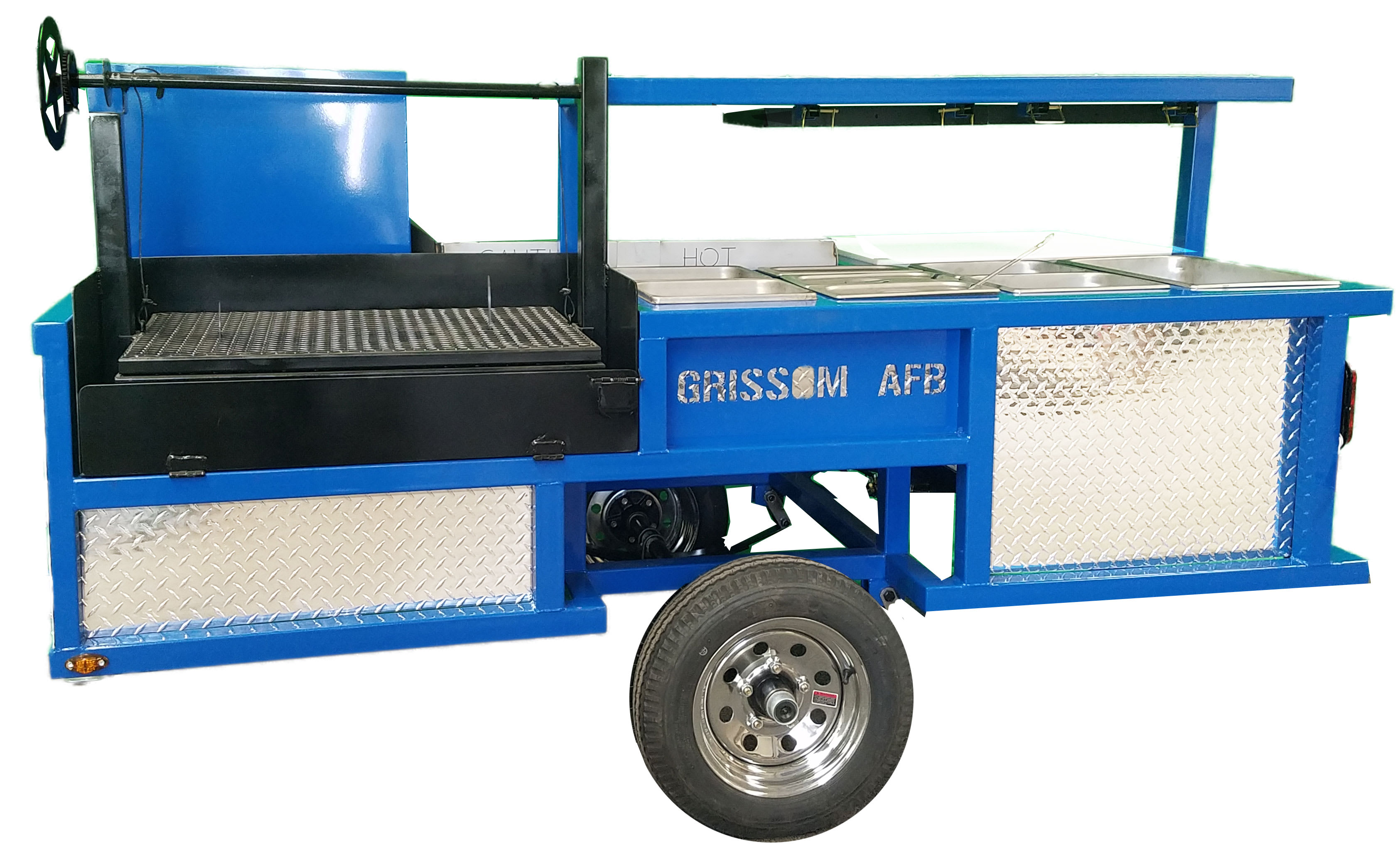 LONESTAR – $5,040
The Lonestar food trailer is powerful yet extremely compact. Includes a Blackstone griddle, Santa Maria-style grill, a smoker, four-compartment steam table, and two poly-resin cutting boards.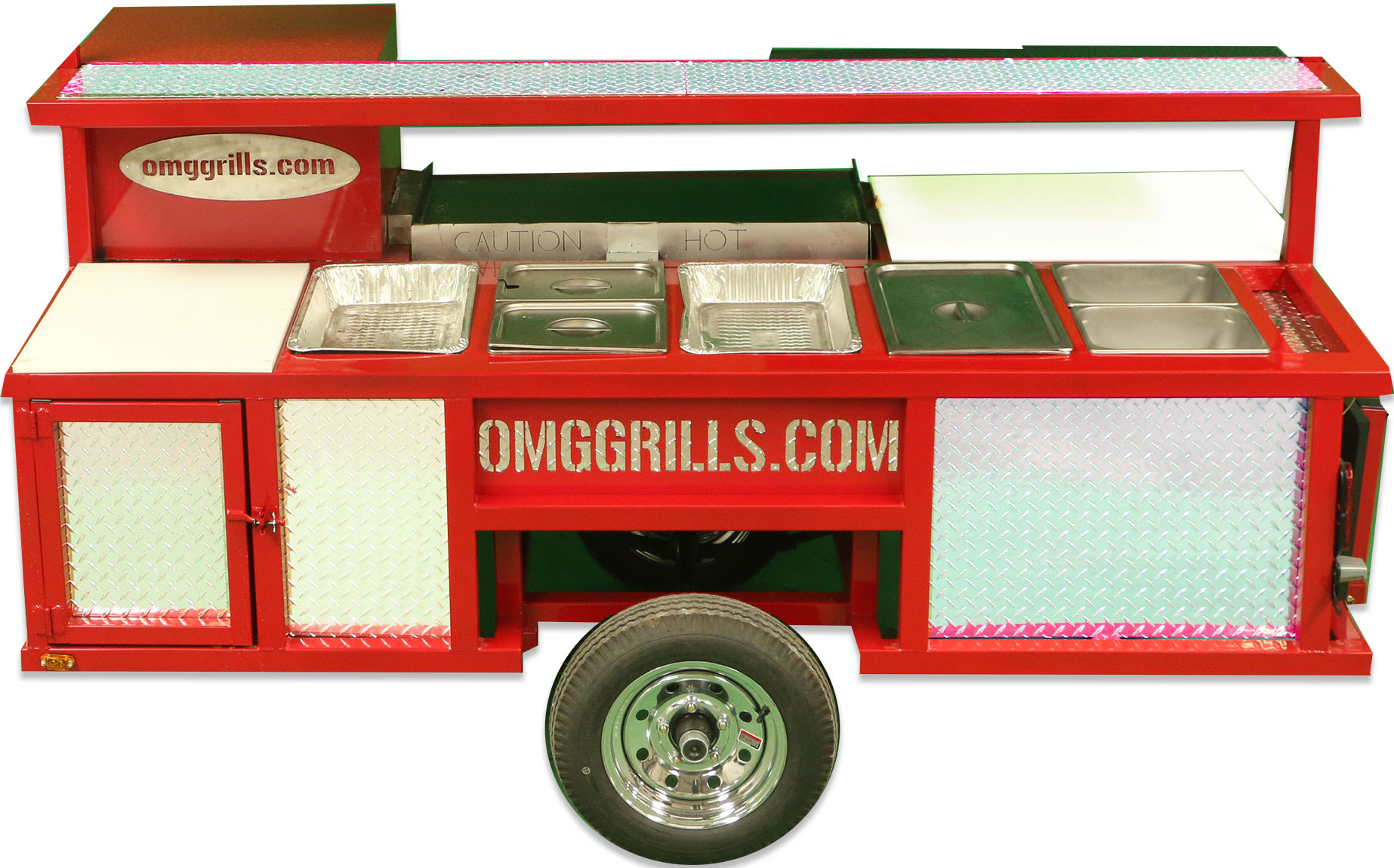 TROOP – $4,170
Our smallest grill trailer, the Troop, is as durable and hard-working as its name. Includes a Blackstone griddle, a warming box, a five-compartment steam table, and two poly-resin cutting boards. Easily the highest quality, most affordable food trailer in the world.
1. ORDER WITH ONLY 10% DOWN
You put down a 10% deposit and we'll put you on a 12-month payment plan. Everyone is approved; with no credit check required. There's a 5% fee for using the lease-to-own program.
2. RECEIVE YOUR OMG AFTER 50% IS PAID
Unlike traditional layaways, you can receive your new grill trailer when only 50% is paid plus the 5% processing fee. You get to start cooking that much sooner!
3. FINALIZE YOUR NEW FOOD TRAILER
Call us to confirm the model, color, and specifications and we'll begin building your new OMG.
4. FINISH MAKING YOUR MONTHLY PAYMENTS
The majority of our clients using the plan make the payment from revenue or donations made by its immediate use.
NEED YOUR OMG NOW? SELECT A FINANCE PARTNER TO SEE TERMS + APPLY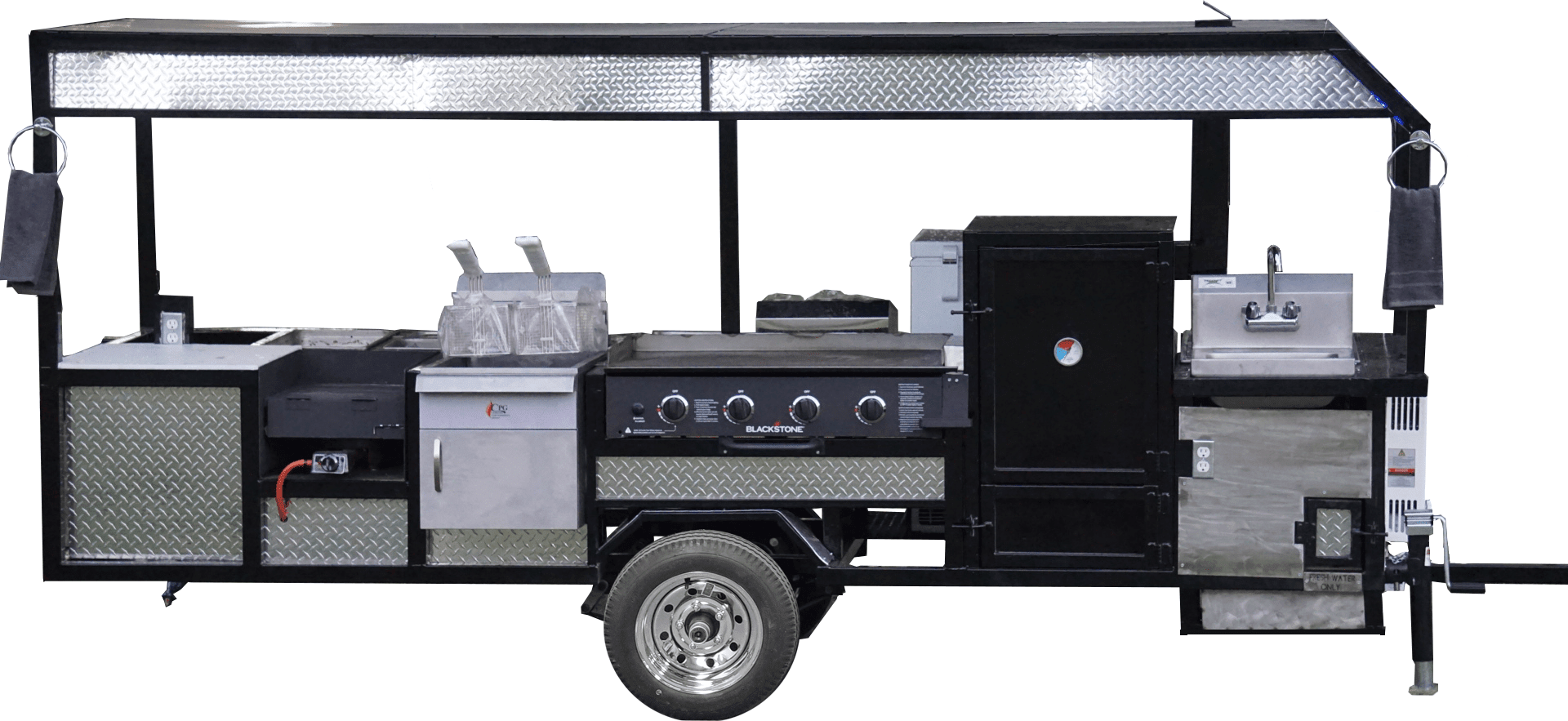 BUILT TO LAST
Each mobile food trailer is hand-built from the ground up in Azle, Texas. We use only high-grade steel from trusted suppliers and our welders are expert craftsmen.
Our trailers can fit just about anywhere and pull behind just about anything. Easily hand-maneuver it into a single parking space or through a disaster recovery situation. The hitch can be removed for both security and safety.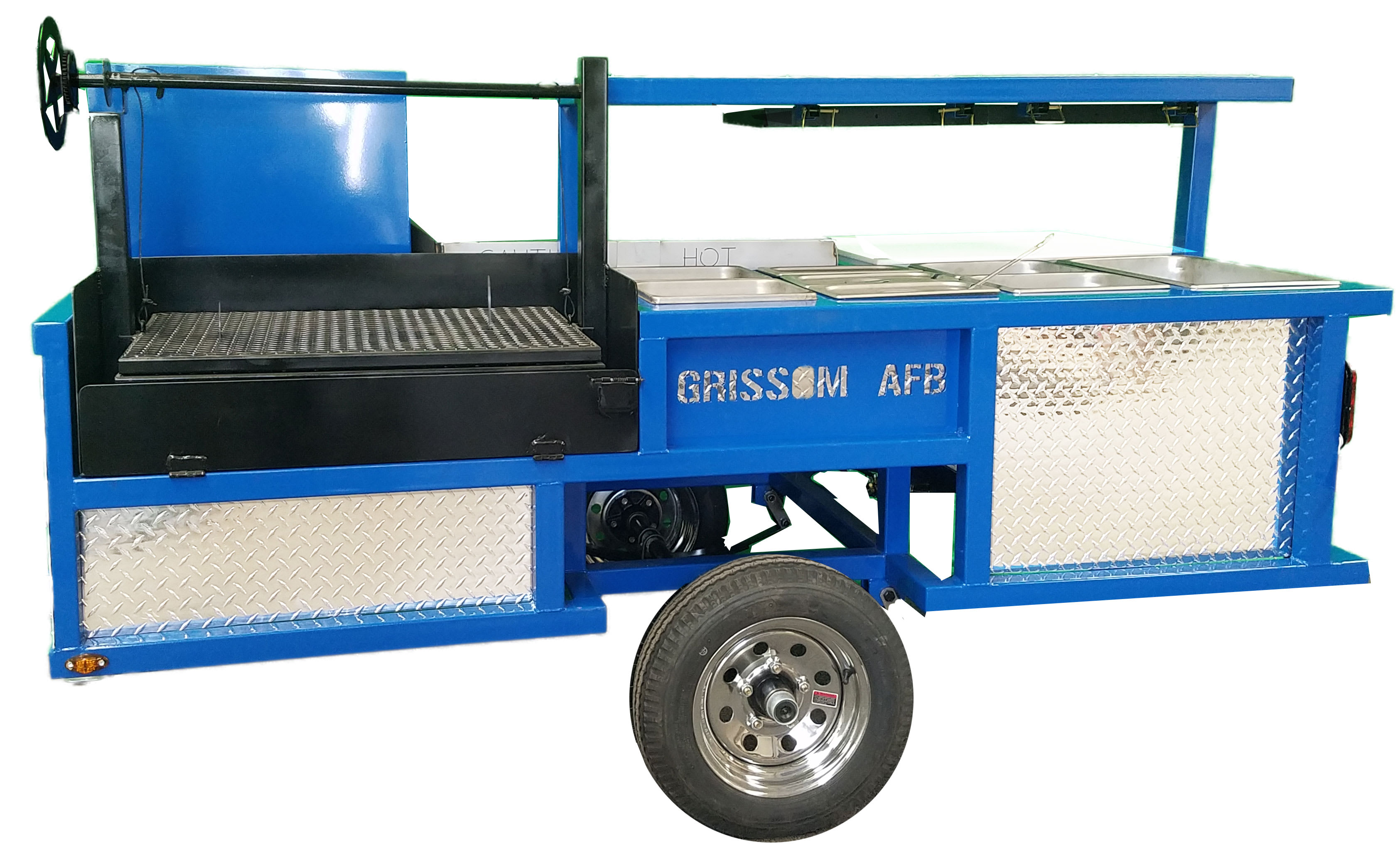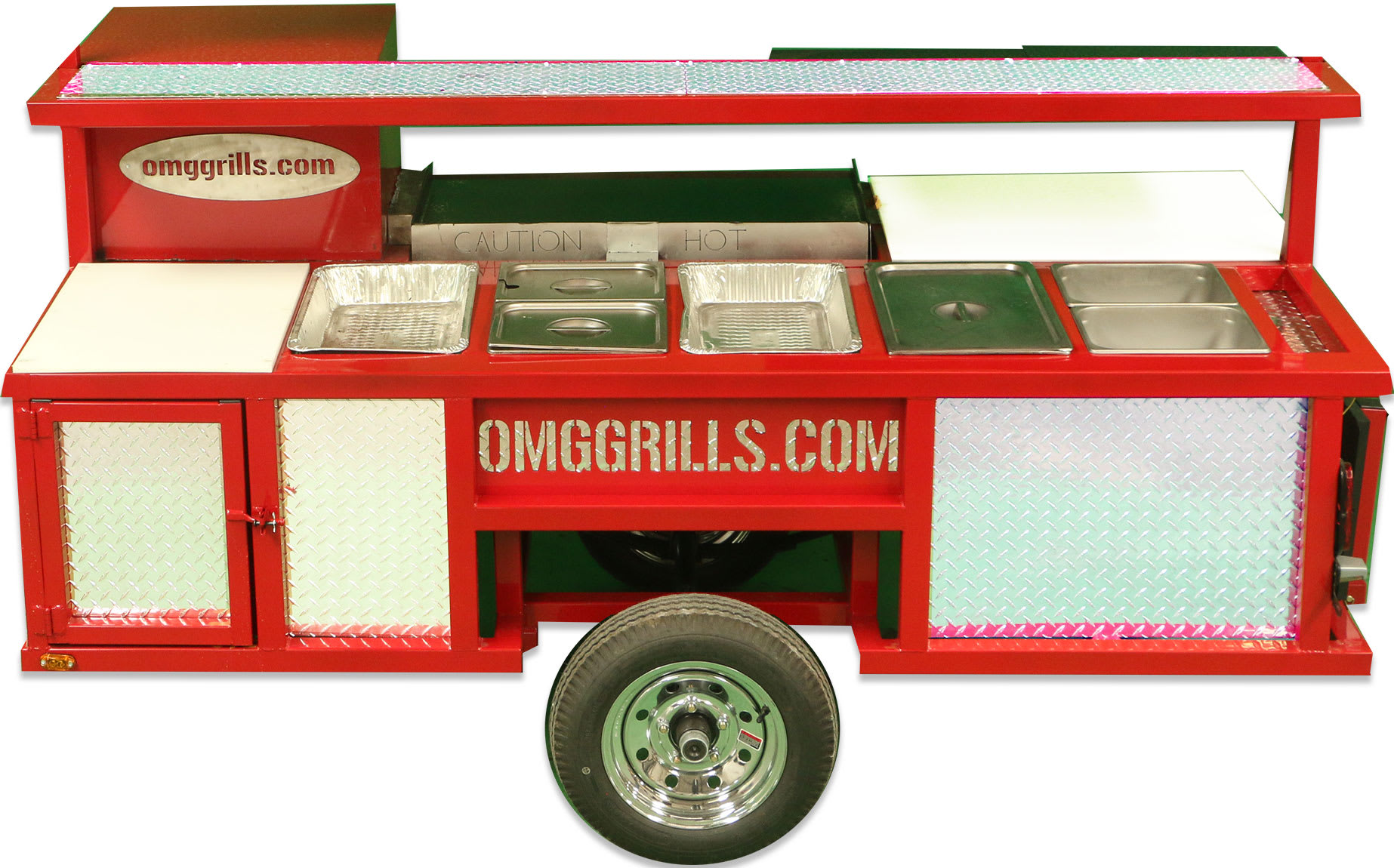 AFFORDABLE
Starting at only $4,170, you won't find a lower price on a full-featured mobile kitchen. And with our lease-to-own program, we're providing the opportunity for you to follow your dreams: open a business, feed the hungry, or connect with your community.
EASY TO USE
If you can flip a burger, you can run an OMG. A single cook can feed hundreds of people in a day, making it easy to take shifts. Whether used in disaster recovery situations, to feed the homeless, or to make a profit, an OMG connects you to your patrons face-to-face.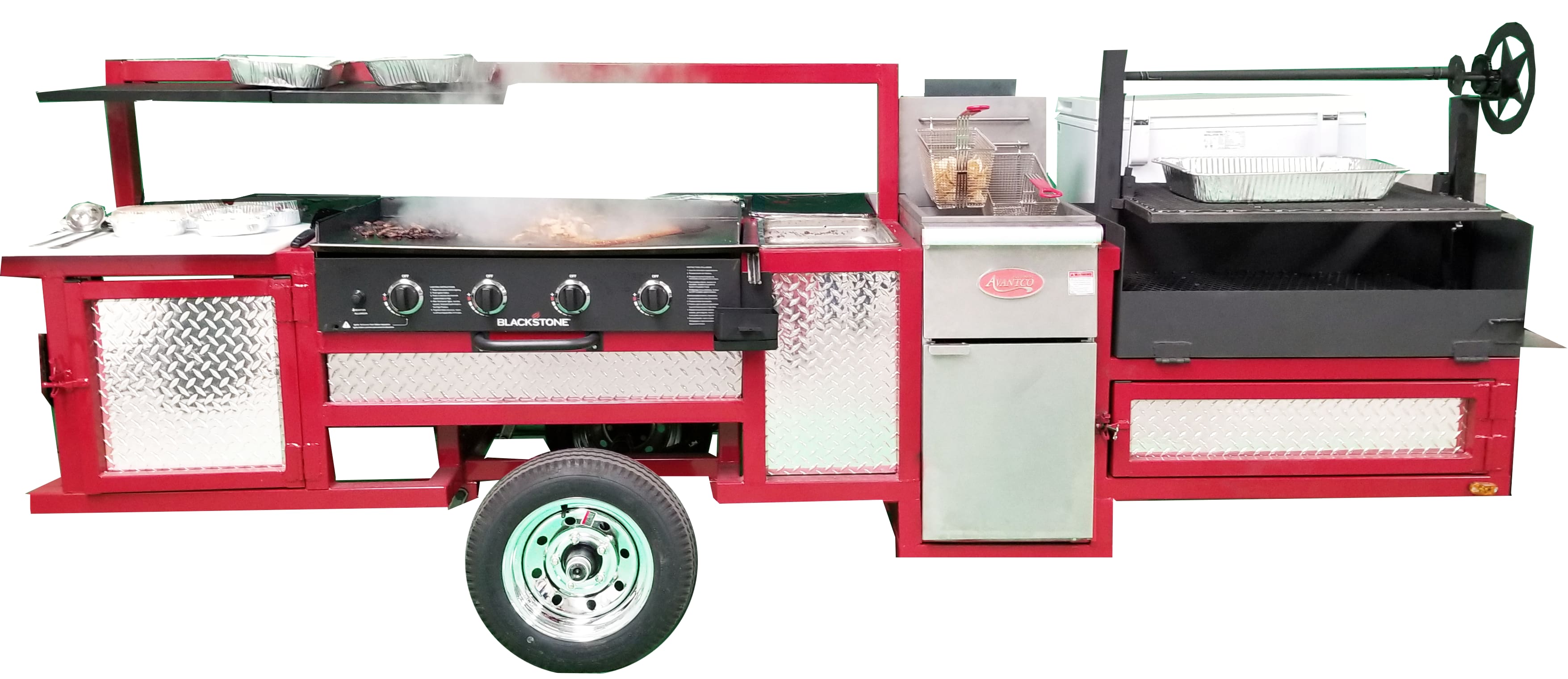 LAUNCH YOUR FOOD BUSINESS
Restaurants, food vendors, and catering companies alike love their OMGs.  Due to their ease-of-use, unique designs, and unbeatable prices (including a lease-to-own option), there's really no reason to delay ordering yours today!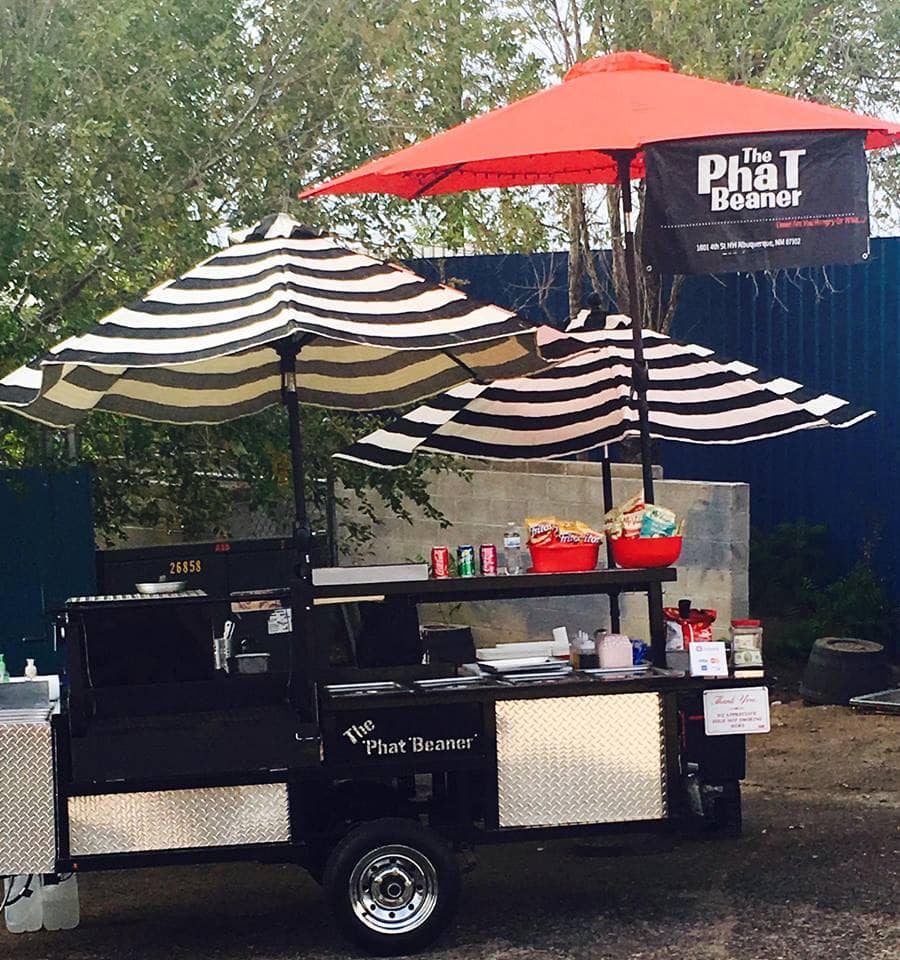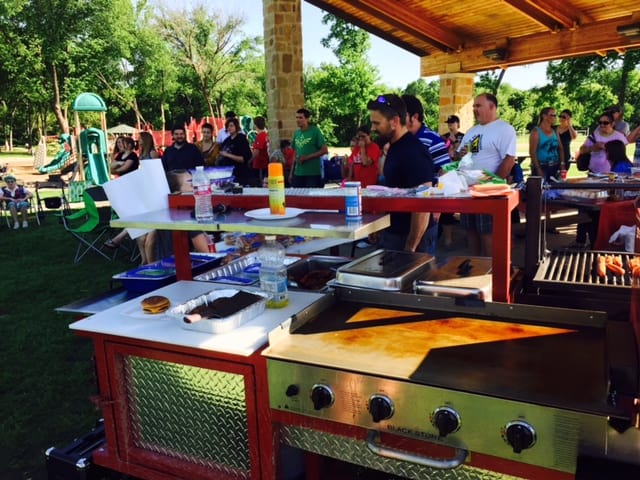 CONNECT WITH EMPLOYEES AND CUSTOMERS
Food can eliminate the status differences among employees. Whether you're rewarding your staff with onsite food cooked on an OMG or have upper management roll up their sleeves and take turns as the chef, providing the opportunity for comradeship among employees pays off in loyalty and job satisfaction.
Nonprofits serve in many capacities, including local municipalities and police departments,  churches and ministries, athletic groups, disaster relief organizations, and even the U.S. military. An OMG is a unique, inexpensive, and highly effective way to feed the hungry and connect with the community.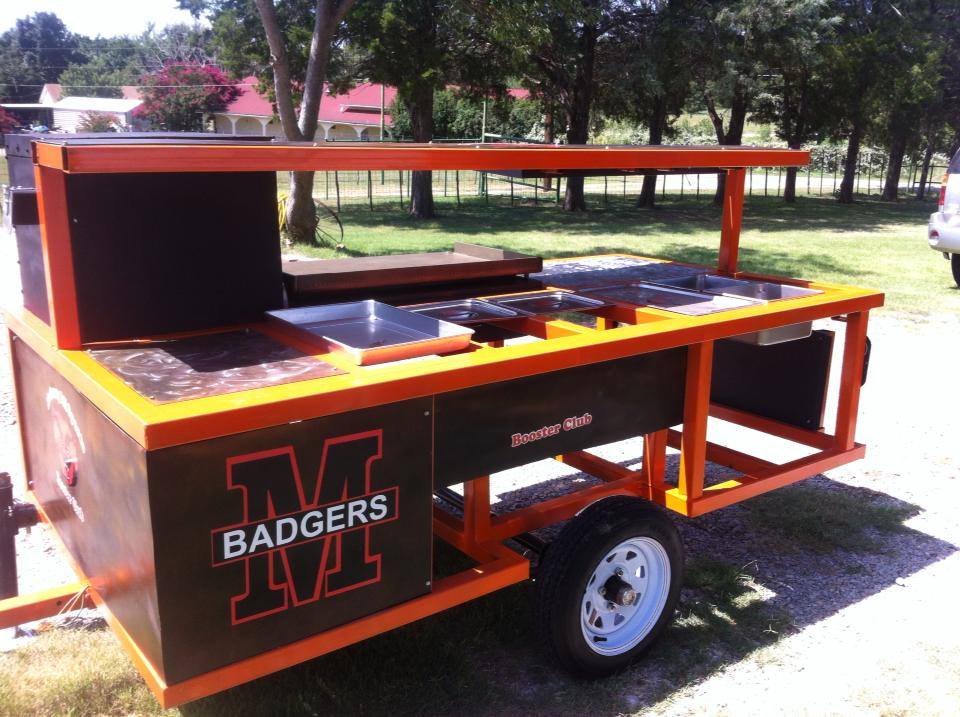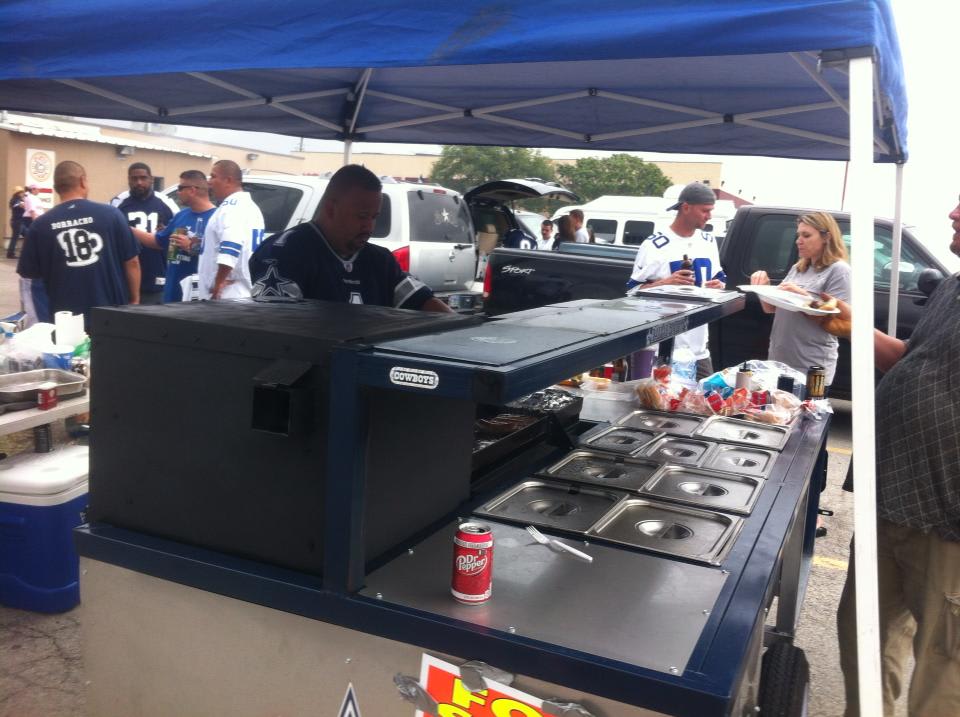 Nobody will turn down your party invites if you're cooking on an OMG! Hook it up to your vehicle and take it with you to cookoffs, family reunions, local charity events, and of course, to the big game. Whether your specialty is hamburgers or smoked BBQ ribs, you need an OMG!