Make The Choice Thousands Have Made And Do It For Under $4,600
We've helped over 900 entrepreneurs, charities, and organizations bring their visions to the public. We have several financing options, with various lenders, that we have partnered with. Damaged credit or no credit? That's not a problem! We have flexable options to help you, by offering our lease-to-own program. With as little as 10% down, (no credit check is required) Your dreams of a custom built, personalized food trailer will be delivered straight to you. Call us for details, (we'd love to talk to you about our product and your goals) which is, "A new way of serving."

OMGRILLS is EXCITED to be partnering with Cool Cruise Adventures
Unique
The uniqueness of the Cool Cruise is a great conversation starter and a mobile business' card making it necessary for any marketing team to have. And any business owner to write off.
Practicality
"Is the Cool Cruise practical when so many other ATV's can do the same thing? " You may ask, and the real question should be "Is the ATV practical?" ATV's can cost up to 30,000 dollars and the Cool Cruise is far more affordable. ATV's require a trailer or those dangerous loading ramps. The Cool Cruise only takes one person to put it in the back of a truck. ATV's require lots of storage space and often leave themselves open to being stolen. The Cool Cruise with is a small footprint takes up less room than a lawnmower and stores easily in your garage or even a tool shed. It can also be stored vertically on the wall.
www.coolcruiseadventures.com
For Questions, CALL US AT 817-382-2728

1. ORDER YOUR OMG WITH ONLY 10% DOWN

With only a 10% deposit on an OMG affordable concession food trailer we'll put you on a 12-month payment plan. 50% of the trailer has to be paid before manufacturing. Everyone is approved; with no credit check required. (There is a 5% fee for using the lease-to-own program)

2. RECEIVE YOUR OMG AFTER 50% IS PAID

Unlike traditional layaway programs, your OMG food trailer will be in your hands after only 50% is paid. Your dreams of owning a personalized, custom built concession food trailer will become reality that much sooner!
3. CALL US AND SAY YOU'D LIKE YOUR OMG BUILT

Call us to confirm how you'd like your OMG built. We'll help you make the final choices on the color, minor modifications, and personalization. You can schedule to pickup or make shipping arrangements. *Shipping not included and cannot be financed*

4. FINISH MAKING YOUR MONTHLY PAYMENTS

The majority of our clients using the plan, make the lease-to-own payments from revenue or donations made by its immediate use.

BEST SELLING MODELS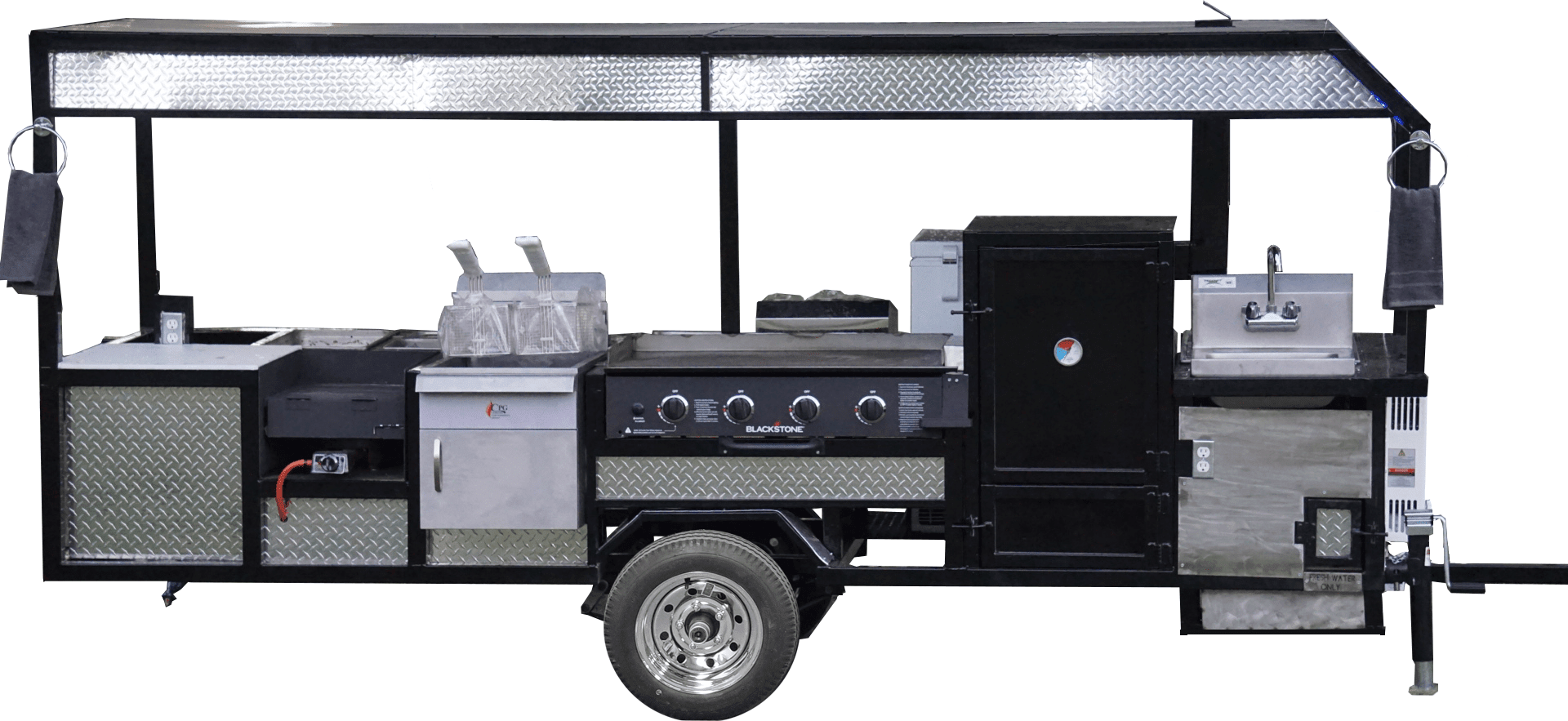 Eli Edition
covered FULLY LOADED COMMERCIAL CONCESSION FOOD TRAILER
Our ultimate OMG, designed specifically for full-time use for profit, charity or disaster relief. It features everything you need: dual frying baskets, lava grill, heavy-duty cooktop, steam tables, freezer and a three compartment sink. It has a separate hand-washing sink, and much more. This is truly the world's premier, maximum-impact and highly affordable concession food trailer.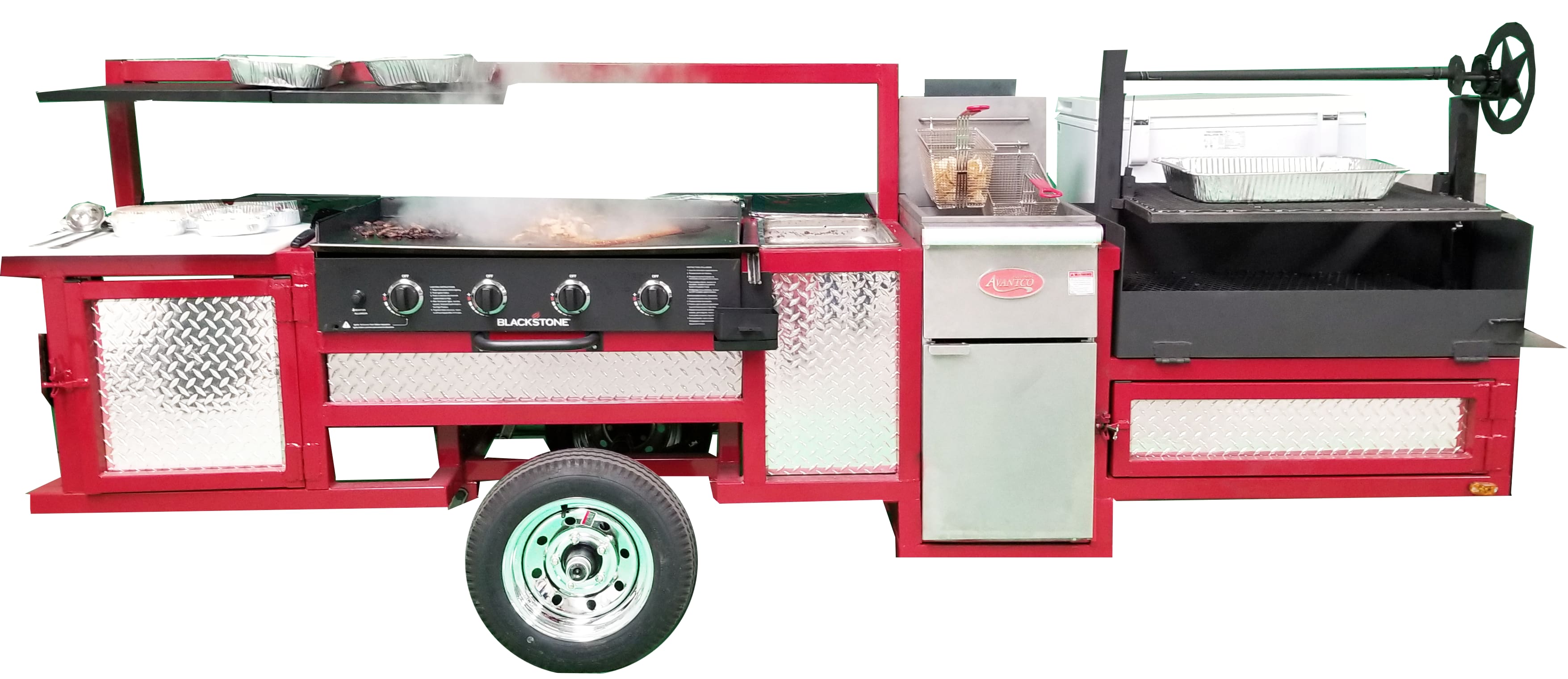 THE SJ
the unique CONCESSION TRAILER TO GRILL AND FRY
This workhorse OMG food trailer includes everything you need to feed with speed. It has a commercial deep fryer for french fries, tempura, carnival foods, and more. Our Santa Maria style grill, five-compartment steam table, a Blackstone griddle, stainless steel cutting boards and four-compartment sink. There's also the optional cold tray and promotional marquee.

The Texan
FOOD TRAILER WITH HOT AND COLD STORAGE
With cooking capabilities as diverse as the Texas weather, the Texan is a fully-featured mobile kitchen. It includes a Blackstone griddle, Santa Maria-style grill, smoker, five-compartment steam table, four-compartment sink, freezer that can be turned down to use as a fridge, a 110 outlet and dry-docking battery system with inverter and two stainless steel cutting boards.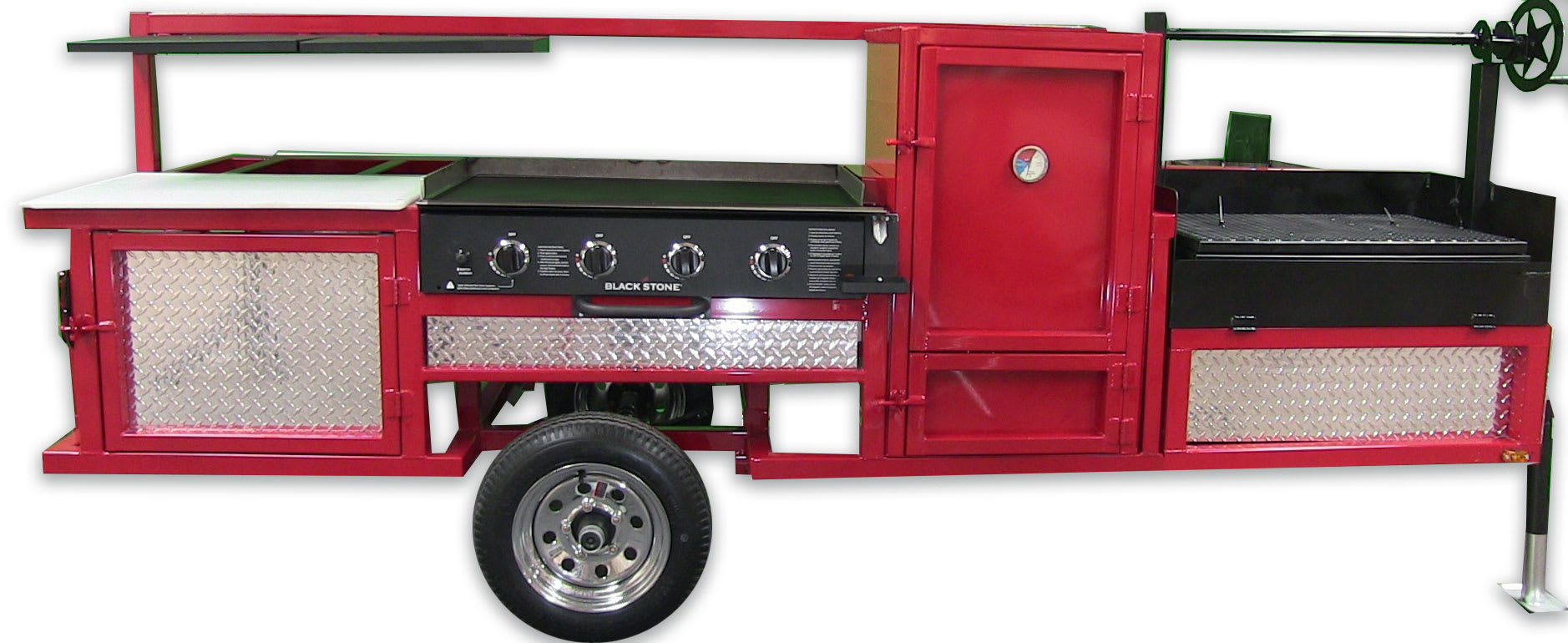 THE Chef
The Grill Trailer that does it all
One of our best selling OMGs, the Chef is a cook's dream kitchen on wheels. This unique concession food trailer includes a large Blackstone griddle, Santa Maria-style BBQ charcoal or wood grill, smoker, five-compartment steam table for maintaining food temperature or serving, four-compartment sink, and two stainless steel cutting boards.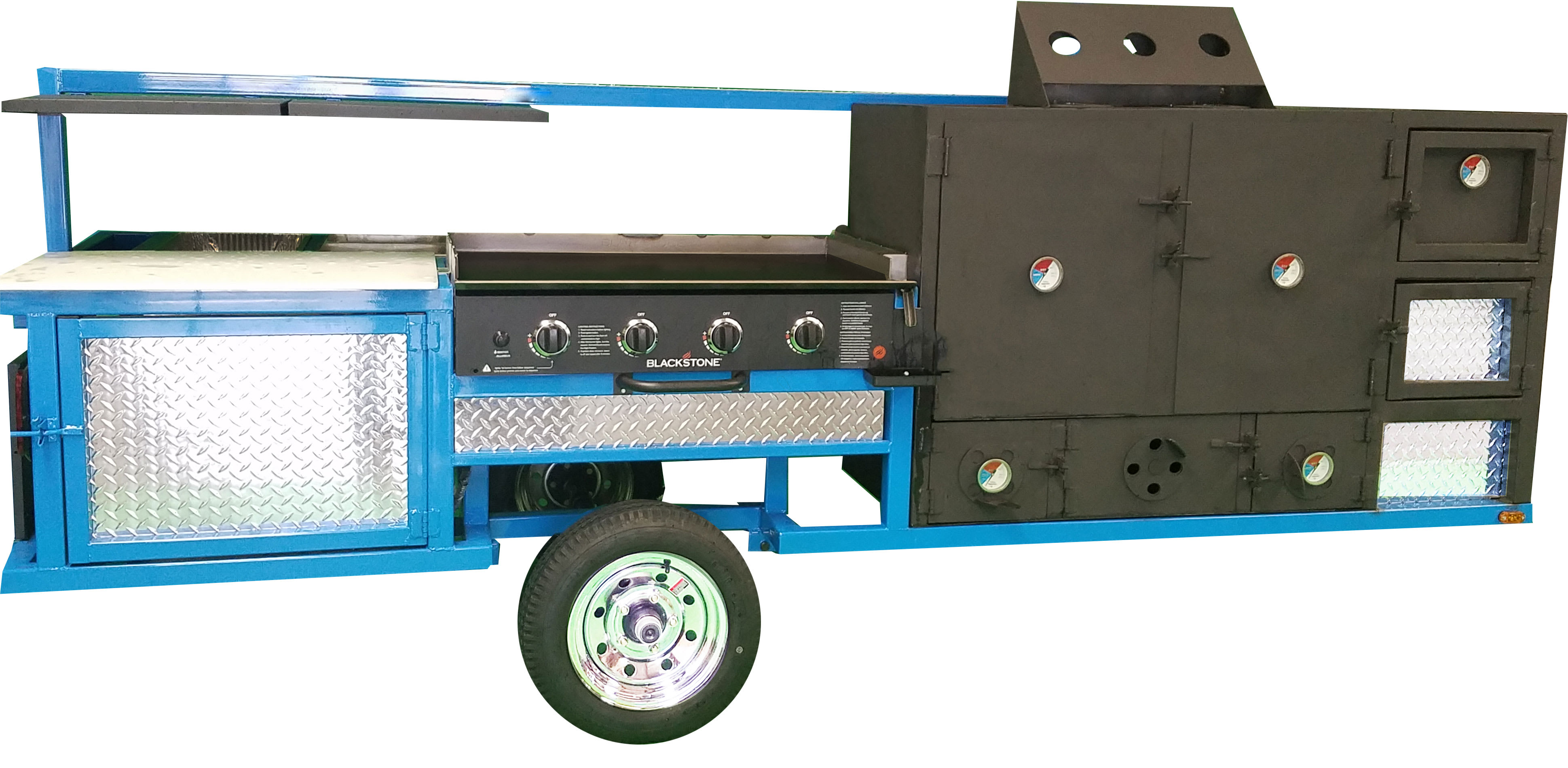 The Steampunk
THE ULTIMATE BBQ COOKING TRAILER

The Steampunk is a ultra-classy, high-performance BBQ trailer features our patented, blue-ribbon winning dual chamber vertical smoker. It also has everything else you need to take home the top prize: a Santa Maria-style grill, five-compartment steam table, Blackstone griddle, four-compartment sink, and two stainless steel cutting boards. (You may also like our new product - The Texas Tornado)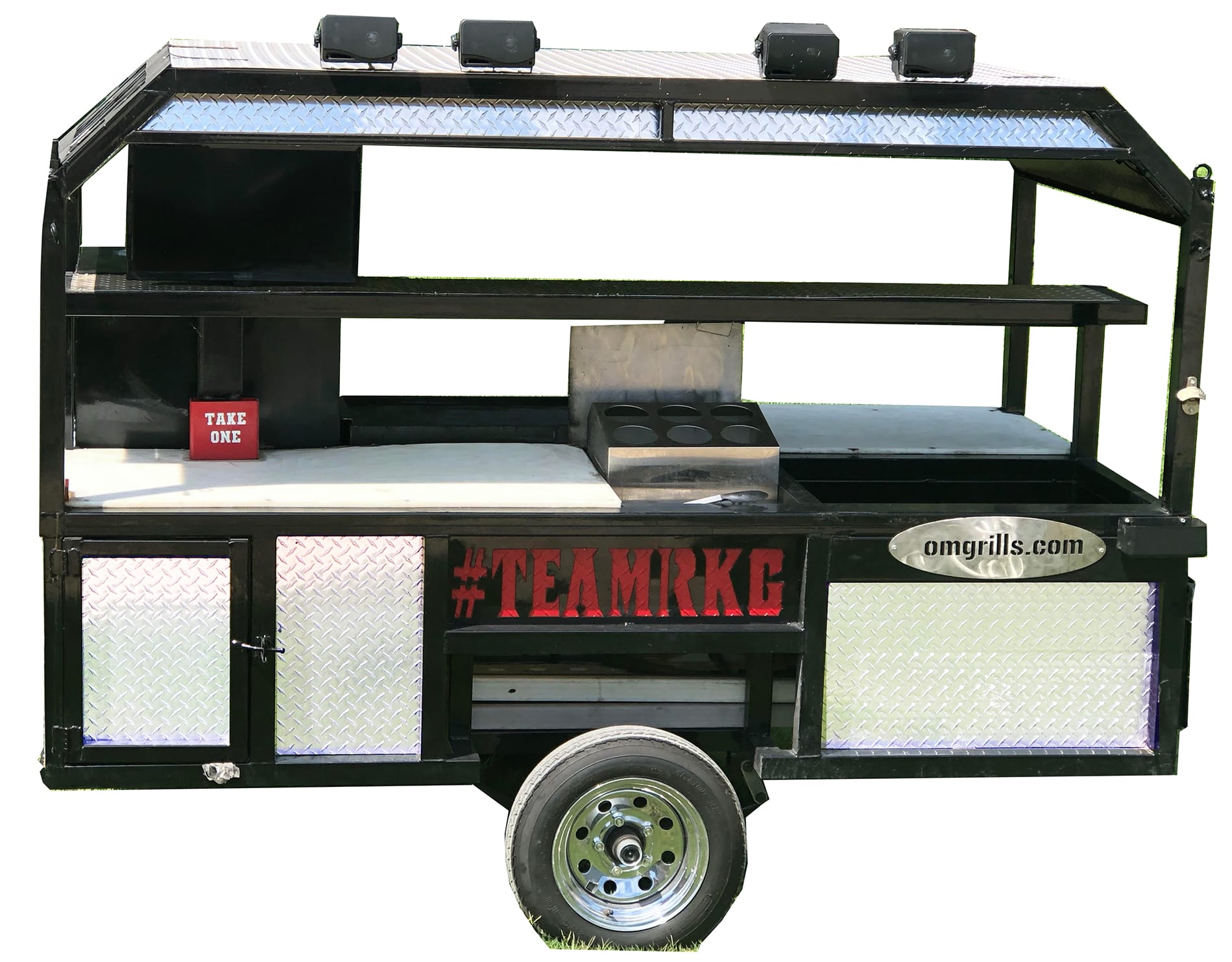 The Promotional
OUTREACH AND event promo TRAILER
Slow things down and use your favorite foods to give you one-on-one time with your employees, customers, community, and anyone else you're trying to reach. This unique OMG is decked out with an LED TV, waterproof PA system with mounted speakers, and all you need to cook and serve including our griddle, warming box, prep station, serving counter, and ice chest.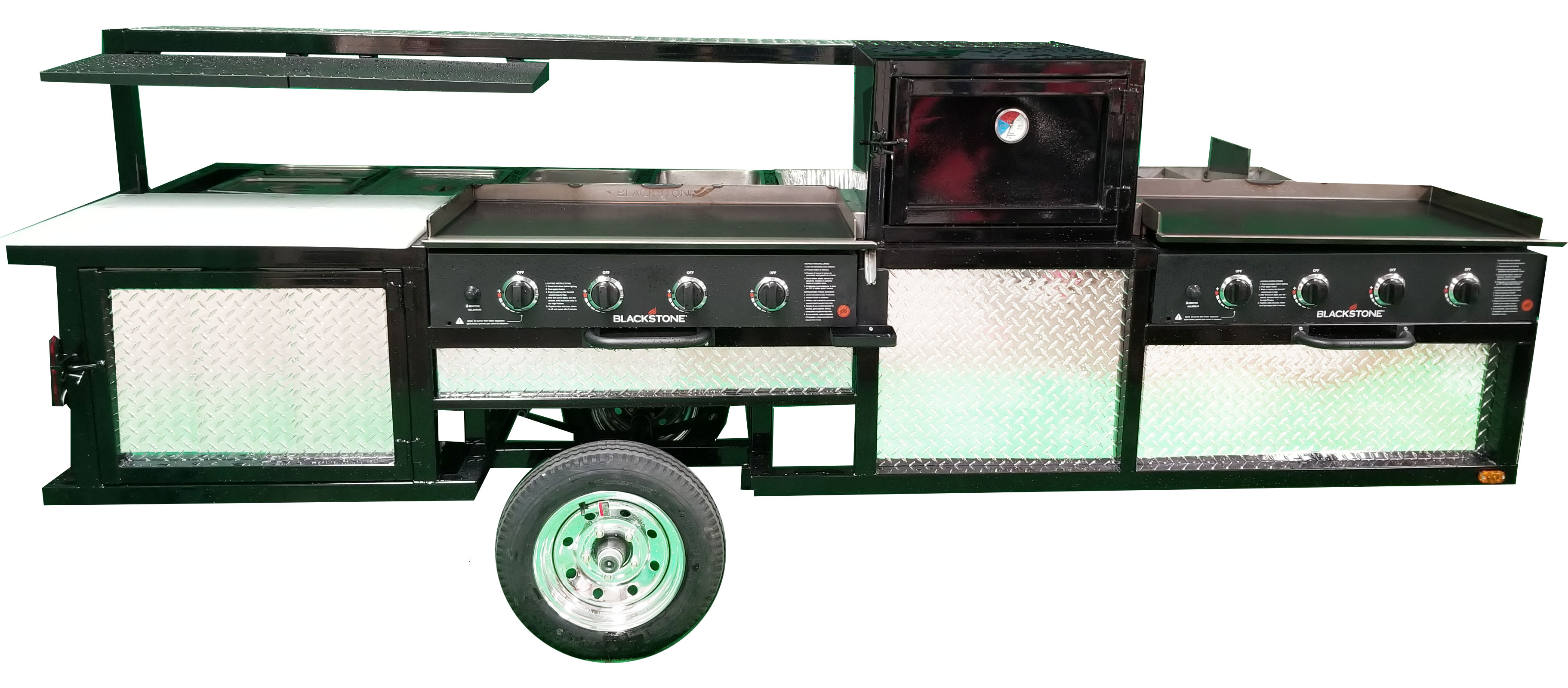 The Parks & Rec
HIGH EFFICIENCY Tow-behind grills
Specially designed with speed and scale in mind, the Parks & Rec features two Blackstone griddles plus a bonus cooking area of either a smoker, a warmer, or a flat top grill. Also includes a steam table to hold food or quickly serve buffet-style, four-compartment sink, and two stainless steel cutting boards. Cook for any crowd with this high-capacity, affordable food trailer.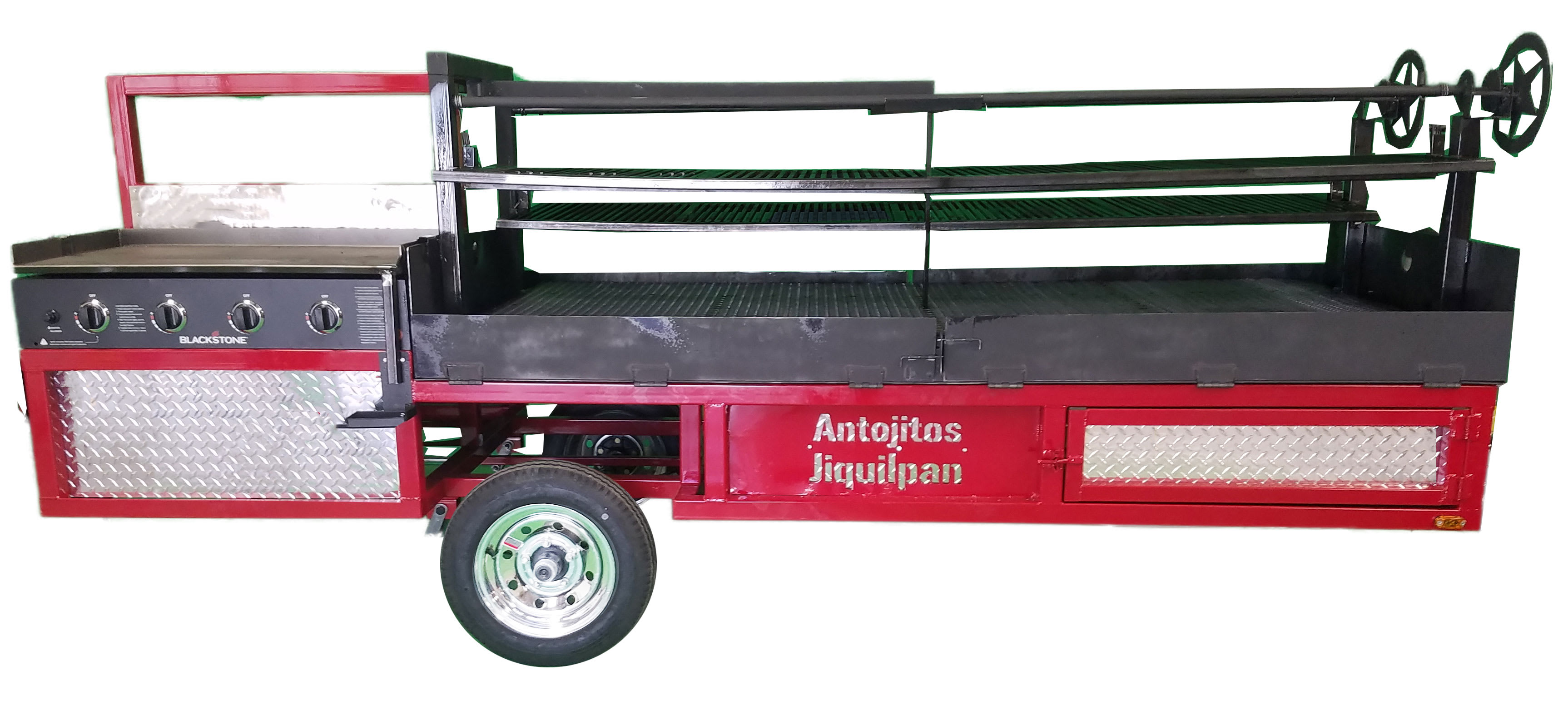 The 805
MEGA SANTA MARIA MOBILE GRILL TRAILER
Named after the area code of Santa Maria, California, the 805 ultra-unique barbecue grill trailer allows you to cook in style and scale. With its giant 8' x 4' hand-adjustable Santa Maria-style charcoal, wood, or combination grill. With two separate cooking zones, it has a versatile Blackstone griddle and stainless steel cutting board or serving counter.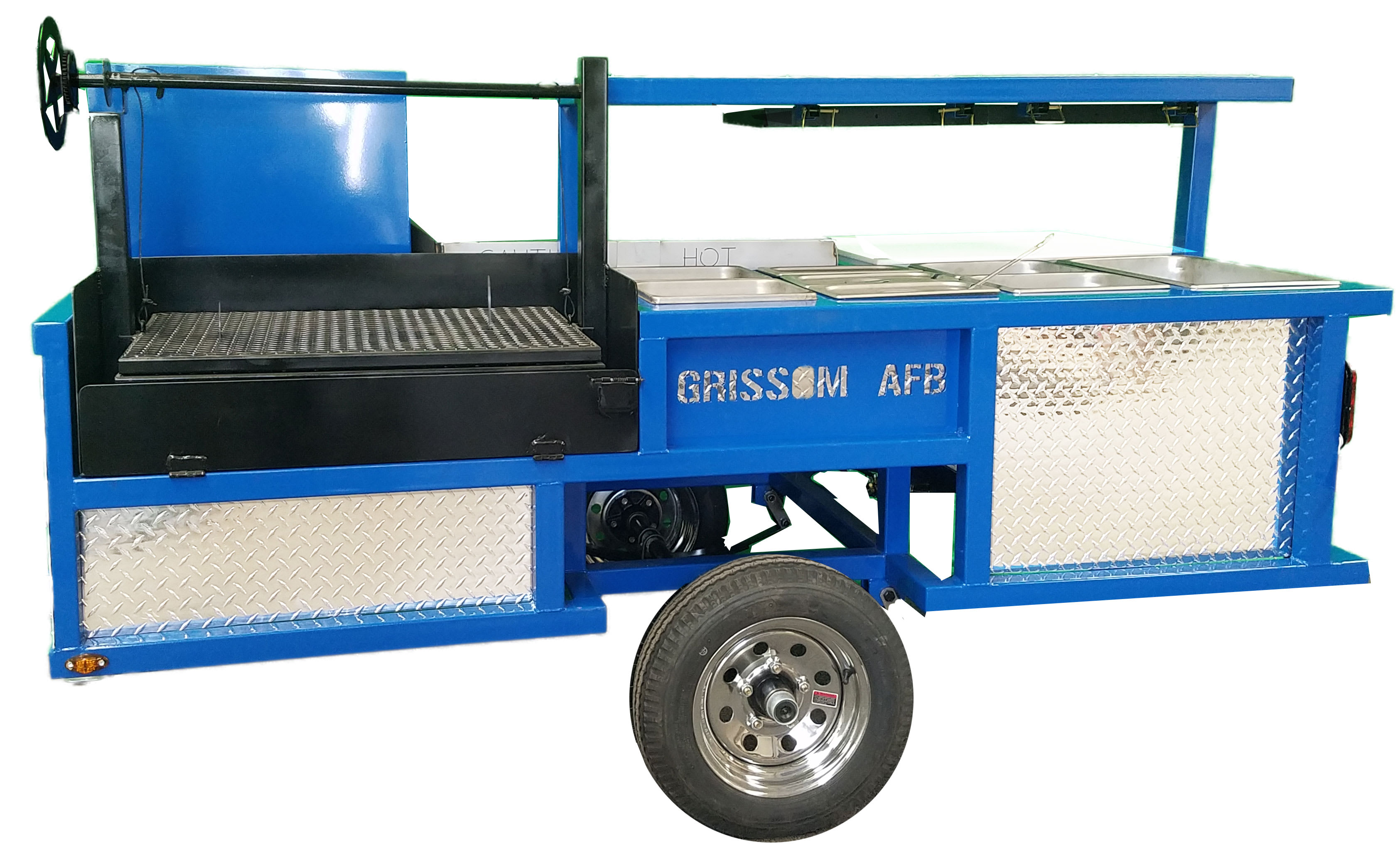 The Lonestar
GRILL TRAILER AND MOBILE MINI KITCHEN
The Lonestar food trailer is powerful, yet extremely compact. It includes a Blackstone griddle, Santa Maria-style barbecue grill, BBQ smoker, four-compartment steam table to hold or serve food buffet-style, and two stainless steel cutting boards.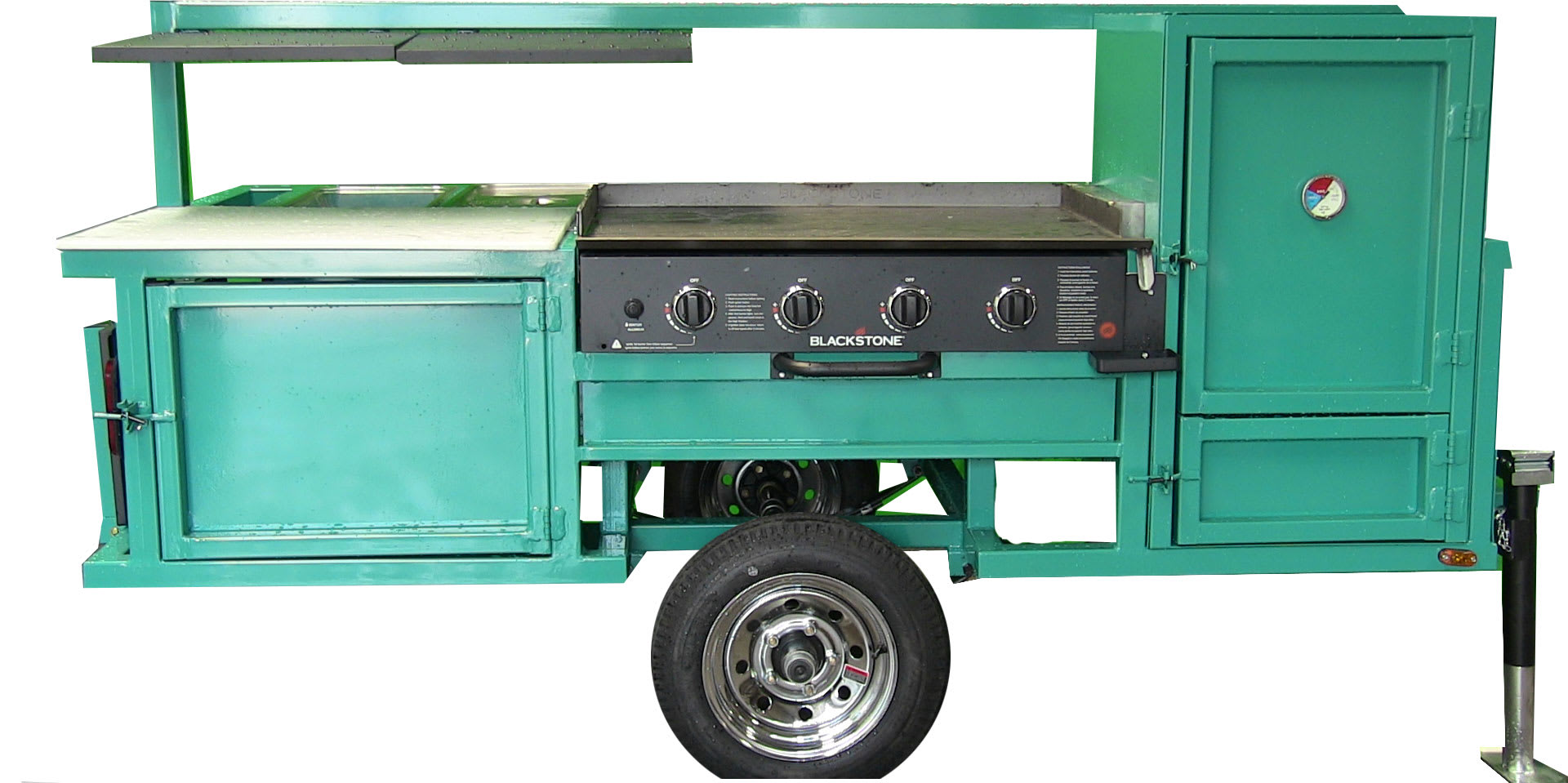 The Landry
VERSATILE AND AFFORDABLE GRILL TRAILER
Lightweight and small, yet capable of grilling, smoking, and warming. The Landry grill food trailer provides flexibility and affordability. Includes a Blackstone griddle, smoker, five-compartment steam table, and two stainless steel cutting boards.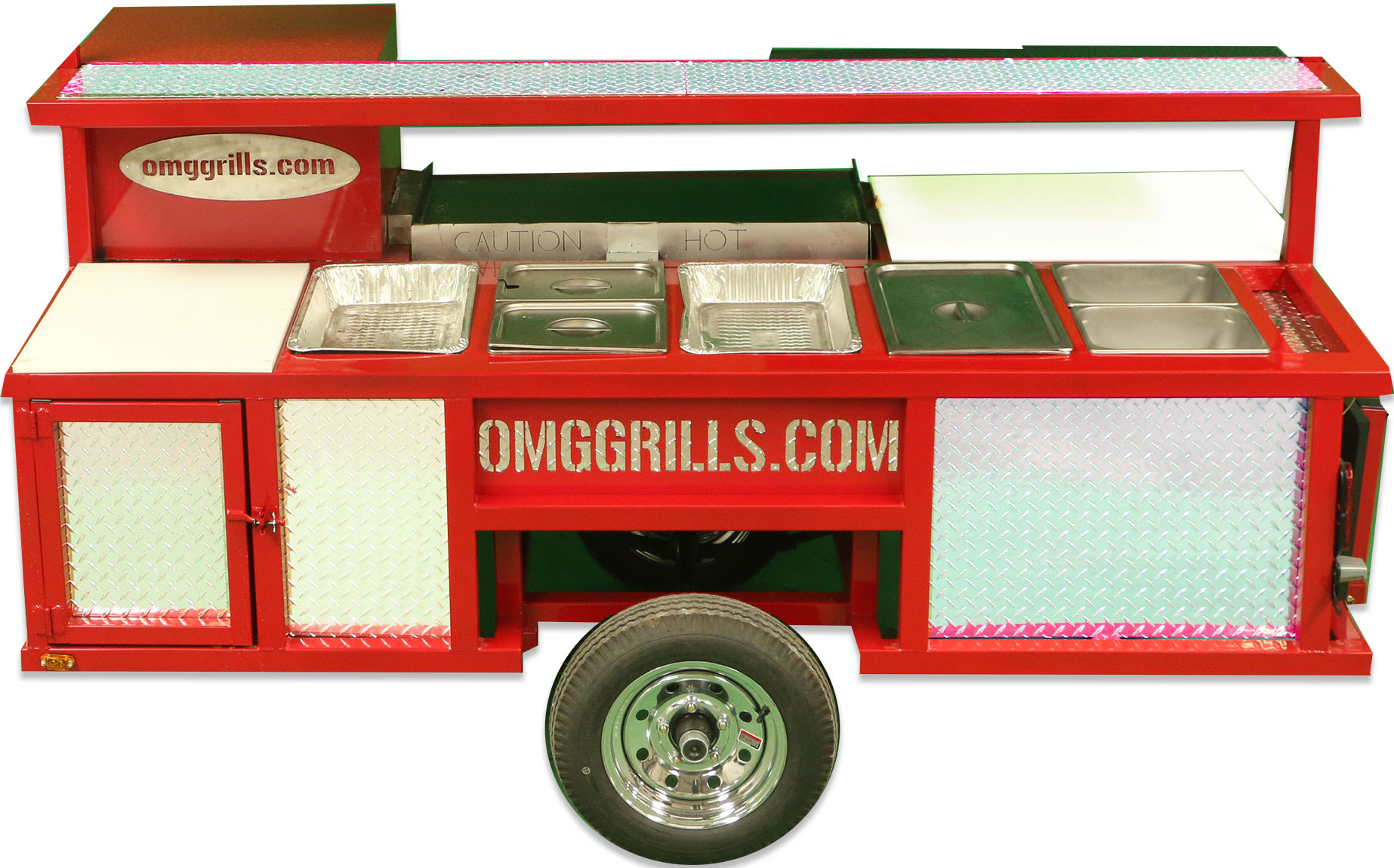 The Troop
AN AFFORDABLE GRILL FOOD TRAILER
Our smallest grill food trailer, the Troop, is as durable and hard-working as its name. It includes a Blackstone griddle, warming box, five-compartment steam table, and two stainless steel cutting boards. Easily the highest quality, most affordable grill food trailer.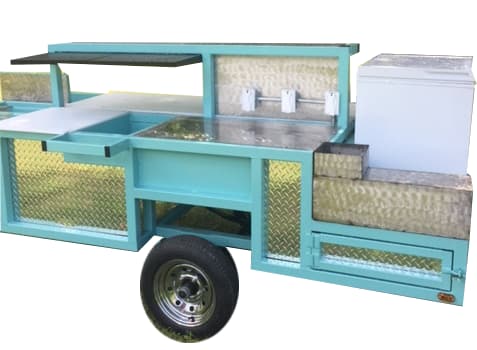 The Rockies
ICE CREAM, SMOOTHIE, & DESERT TRAILER
Our Rockies ice cream trailer stands on its own as a cold food and beverage mobile kitchen. It includes three GFI plugs, power adapter, 5-cubic foot freezer, display ice chest, two additional ice wells, sink and two stainless steel prep counters.