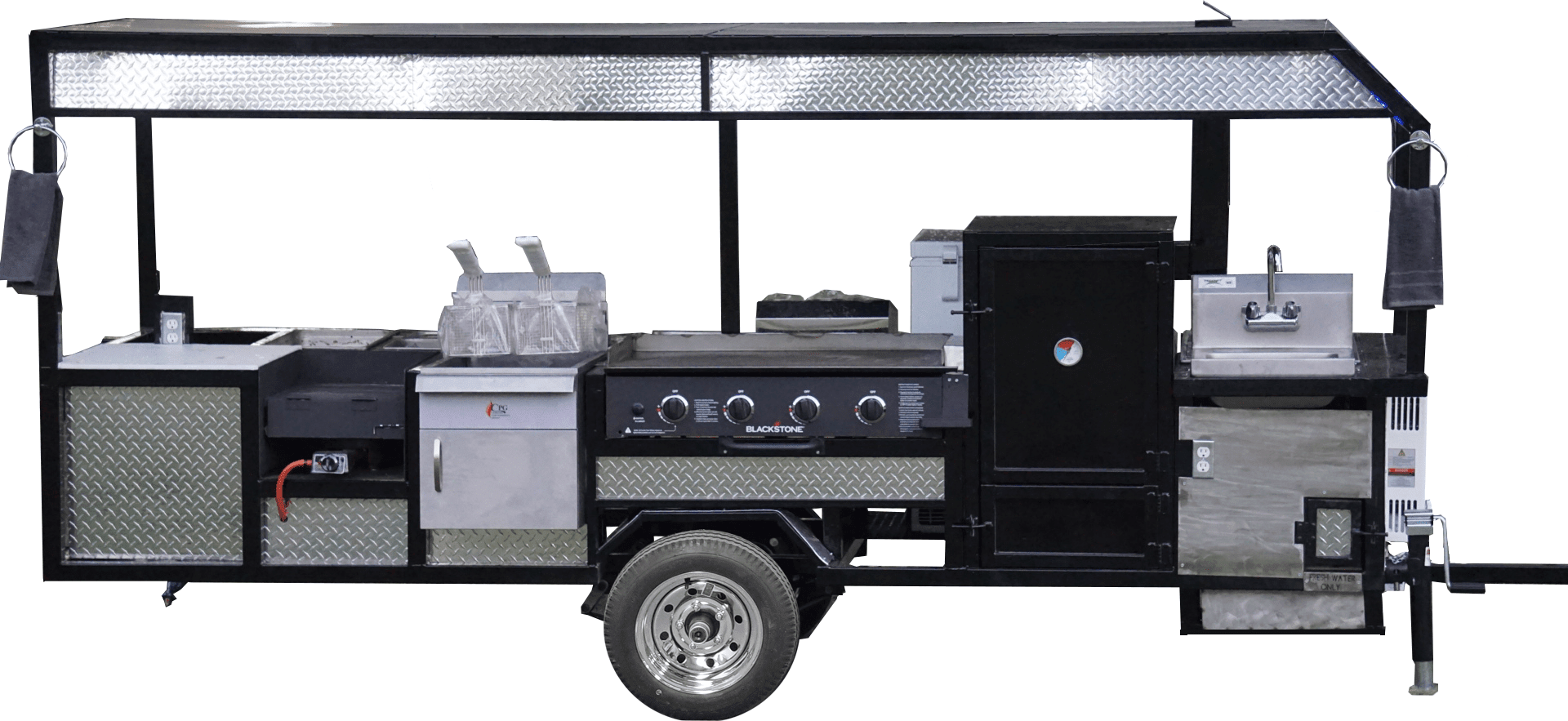 The ultimate OMG: the Eli Edition is literally a full-fledged commercial kitchen on wheels.
EASY TO OPERATE
If you can flip a burger, you can run an Eli Edition. A single cook can feed hundreds of people in a day, making it easy to take shifts. Whether used in disaster recovery situations, to feed the homeless, or to make a profit, an OMG connects you to your patrons face-to-face.
OUTSTANDING VALUE
At only $9,925, you won't find a similar price on a full-featured mobile kitchen with everything you need to prep, cook, serve, and clean. And with our lease-to-own program, we're providing the opportunity for anyone to open a business, feed the hungry, or connect with the community.
LIGHT & NIMBLE
At 12 feet long and only 1100 pounds, an Eli Edition can be pulled by most vehicles with a tow bar. Easily hand-maneuver it into a single parking space. The hitch can be removed for both security and safety.
BUILT TO LAST
Each mobile food trailer is hand-built from the ground up in Azle, Texas. We use only high-grade steel from trusted suppliers and our welders are expert craftsmen.
PREP IT
Slice it, dice it, and chop it on the attached poly-resin cutting boards. Easy to clean and perfect for prep work.
FREEZE IT
Keep your frozen food frozen in any outdoor environment in the included 5-cubic feet chest freezer.
WASH IT
The Eli Edition comes with a pressurized three-compartment sanitation sink and a fully separate hand washing sink. Hot water is heated and pumped alongside the 7 gallon fresh water and 9 gallon grey water tanks.
SMOKE IT OR KEEP IT WARM
The 16-gauge 22" x 22" x 36" steel vertical smoker has two built-in racks and room to add your own. Use it as a traditional smoker with wood, charcoal, or a mix of both, or as a warming box to hold up to 400 degrees.
GRILL IT
Grill meats and vegetables to perfection on the 16 x 20 lava grill with a 30,000 BTU burner.
FRY IT
Make scumptous fried goods in any quantity with the 30-gallon two-basked fryer.
STACK IT
Stack your plates, bowls, napkins, and utensils or any other items of your choice on a pair of removable metal shelves. Keep your condiments in the attached holder.
STEAM IT
Two 30,000 BTU burners provide heat to the steam table. The four steam tray slots can hold the various sizes of your hotel-size restaurant pans.
COOK IT
Grill, boil, and fry on the 36" Blackstone griddle with removable drip pan. It has four independently-controlled 15,000 BTU burners.
POWER IT
The included battery and inverter provide power to your freezer and built-in LED lighting as well as any other kitchen tools via the accessible plugs.
Questions? Call 817-382-2728
4′ x 12′ and only 1,100 pounds
Hand-built from the ground up
2" square steel tubing frame
2,000-pound axle, 700-pound springs
13″ modular highway rated tires
Complete hookup for the LED tail lights and brake lights
2" ball coupler and removable tongue to prevent tripping and trailer theft
Powder-coated in your choice of color to match your brand
Hookup and holders for three 20-pound propane bottles
LED lighting
Your choice of sides in aluminum diamond plate or 16-gauge steel panels with a customizable sign area
Two 2" square metal openings can hold a banner, umbrellas, flags, or the optional marquee sign
RAM trailer jack that supports up to 3,000-pounds
Just ordered one, what a great experience it was! Professional and personal care…highly recommend them.
Mark L.
An OMG is a must have for a chef. Indoors, outdoors, patio, on the street, you name it, this trailer is amazing!
Venus, Jackson, MS
LET'S CHAT ABOUT YOUR FLOW OF FOOD
FOR ENTREPRENEURS:
Lightweight and affordable, an OMG can launch your food service business, whether that's onsite catering, setting up in outdoor food courts, or hitting the road to do fairs and show. And with our lease-to-own program, limited finances won't stop your dreams from coming true.
FOR CORPORATIONS:
Food is one of the greatest ways to connect with anyone, including your employees and customers. Companies across the U.S. are using our outdoor mobile kitchens to forge deeper connections with all of their stakeholders.
NO CREDIT CHECK LEASE-TO-OWN
1. ORDER WITH ONLY 10% DOWN
You put down a 10% deposit and we'll put you on a 12-month payment plan. Everyone is approved; with no credit check required. There's a 5% fee for using the lease-to-own program.
2. RECEIVE YOUR OMG AFTER 50% IS PAID
Unlike traditional layaways, you can receive your new grill trailer when only 50% is paid plus the 5% processing fee. You get to start cooking that much sooner!
3. FINALIZE YOUR NEW FOOD TRAILER
Call us to confirm the model, color, and specifications and we'll begin building your new OMG.
4. FINISH MAKING YOUR MONTHLY PAYMENTS
The majority of our clients using the plan make the payment from revenue or donations made by its immediate use.
NEW! FINANCE WITH NO DOWN PAYMENT, CREDIT REQUIREMENT ONLY 575+!
Along with our lease to own program, we've partnered with Rock Solid Funding to provide no-down-payment financing. Apply today by visiting Rock Solid Funding's website and filling out an application.
1. GET IN TOUCH
Contact us by calling 817-382-2728 or filling out the form below and we'll reach out to you. If you're not ready to order, call us anyhow, we'd love to chat!
2. CHOOSE COLOR AND OPTIONS
We'll help you decide on the right powder-coating to match your brand colors, select options or add a marquee, and make any customizations for your menu.
3. PICK IT UP OR GET IT SHIPPED
Once your hand-built OMG is finished, you can either pick up your mobile kitchen at our Azle, Texas facility or we can arrange to have it shipped to you.
ORDER ONLINE WITH OUR VISUAL BUILDER
LEASE-TO-OWN? AWESOME!
Are you looking to utilize our incredible lease-to-own program? Just give us a call 817-381-2728 or fill out this form.
NEED A CUSTOM COLOR?
While we provide our most popular colors in our visual builder, we can powder coat an OMG in virtually any color, just reach out to us.
ISSUES WITH THE BUILDER?
If you're having issues with the visual builder, please let us know and we'll fix it ASAP.