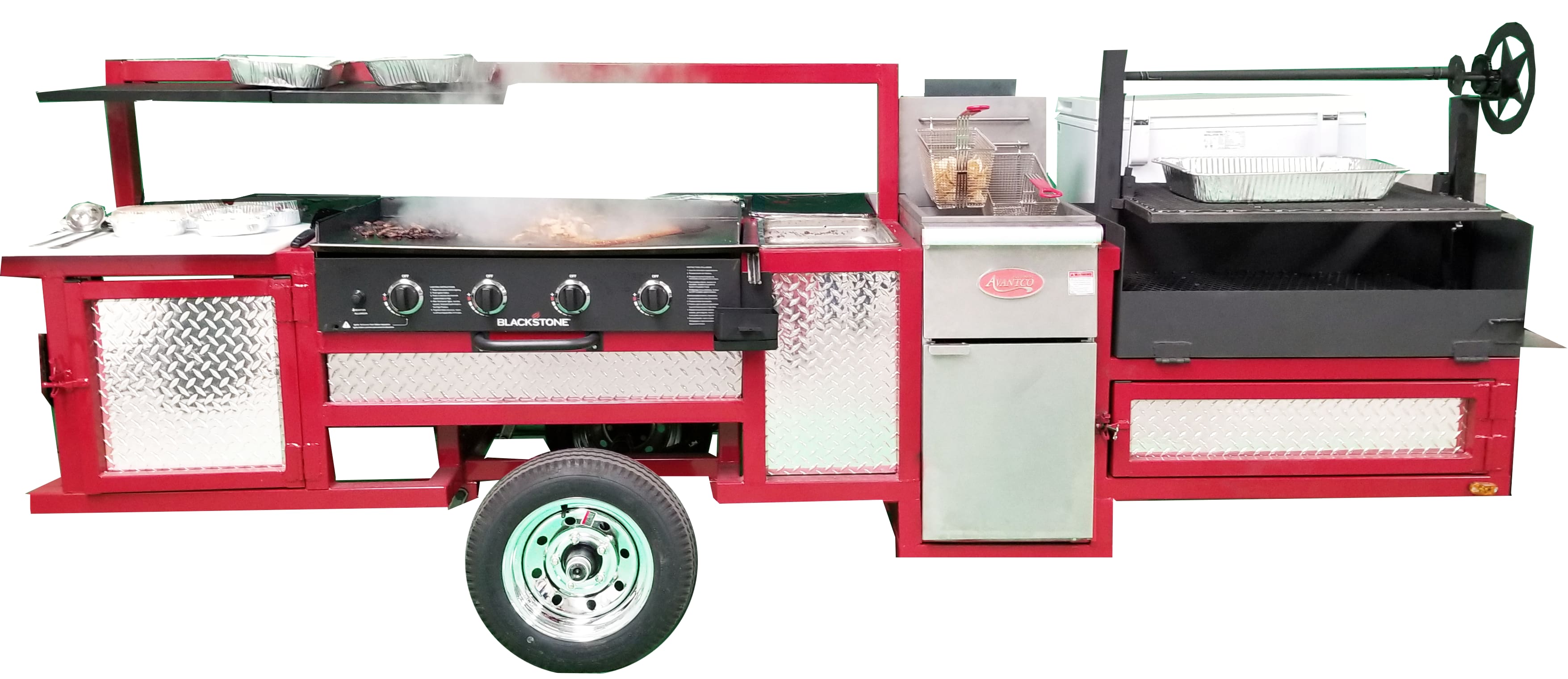 Live your dream today! Fair vendors, caterers, cooking competitors, restaurants, and chefs across the U.S. use their OMG to prepare, present, and profit from their best recipies and finest techniques in any genre.
SELL ANYWHERE
From parking lots to pavillions to roadside food courts, at either 8-foot or 11-foot, our models can be towed by virtually any vehicle with a towbar and hand-menuvered into the tightest of spots.
HANDLE HUGE LINES
No matter how many customers line up to dine on your meals, your OMG won't slow you down or limit your capacity. The U.S. Air Force used their OMG to serve 1,500 people in one day!
SAFETY FIRST
We've painstakingly improved the safety of each element of an OMG. The hitch is removable to prevent theft and eliminate the risk of tripping, and all materials are selected for safe food handling.
CONNECT WITH CUSTOMERS
With an OMG, you and your patrons are on the same level. This builds your brand and enables you to connect directly with customers; something those looking down from a food truck window can't do.
ENDLESS VARIETY OF FOOD
From simple cheeseburgers to blue-ribbon smoked meats, there's an OMG mobile kitchen for whatever menu you're cooking up. Our diverse lineup of equipment gives you total creative freedom.
BUDGET FRIENDLY
Fulfill your dream of owning a food business for a fraction of the traditional cost! Our models range from $5,215 to $8,625, and our lease-to-own program is initiated with only 10% down; no credit check required.
SELL AT EVENTS
Use your OMG to break into the food trailer market in an attention-grabbing and inexpensive way. Pick your powder-coating color to match your brand and start monetizing your recipes at fairs, festivals, events, and at any outdoor area food is sold.
EXTEND YOUR RESTAURANT
Bring your existing restaurant on the road to local or distant events. You can simultaneously advertise your brick and mortar location, give out samples in the parking lot to attract customers, or keep a long line of people entertained on the patio while waiting to enter.
WIN BLUE RIBBONS
Discover the secret of blue-ribbon winners across the counry with our patented vertical dual-stack smoker, or turn on the spotlight to your prized family recipes at fairs, festivals, and cookoffs across the country.
CATER YOUR SPECIALITIES
Bring your food directly to your customers by catering to companies, nonprofits, organizations, parties, and events across the country. Prepare your food on the OMG, or bring it pre-prepared.